Original author- AllianceDAO co-founder Wang Qiao
Compiled - Odaily Azuma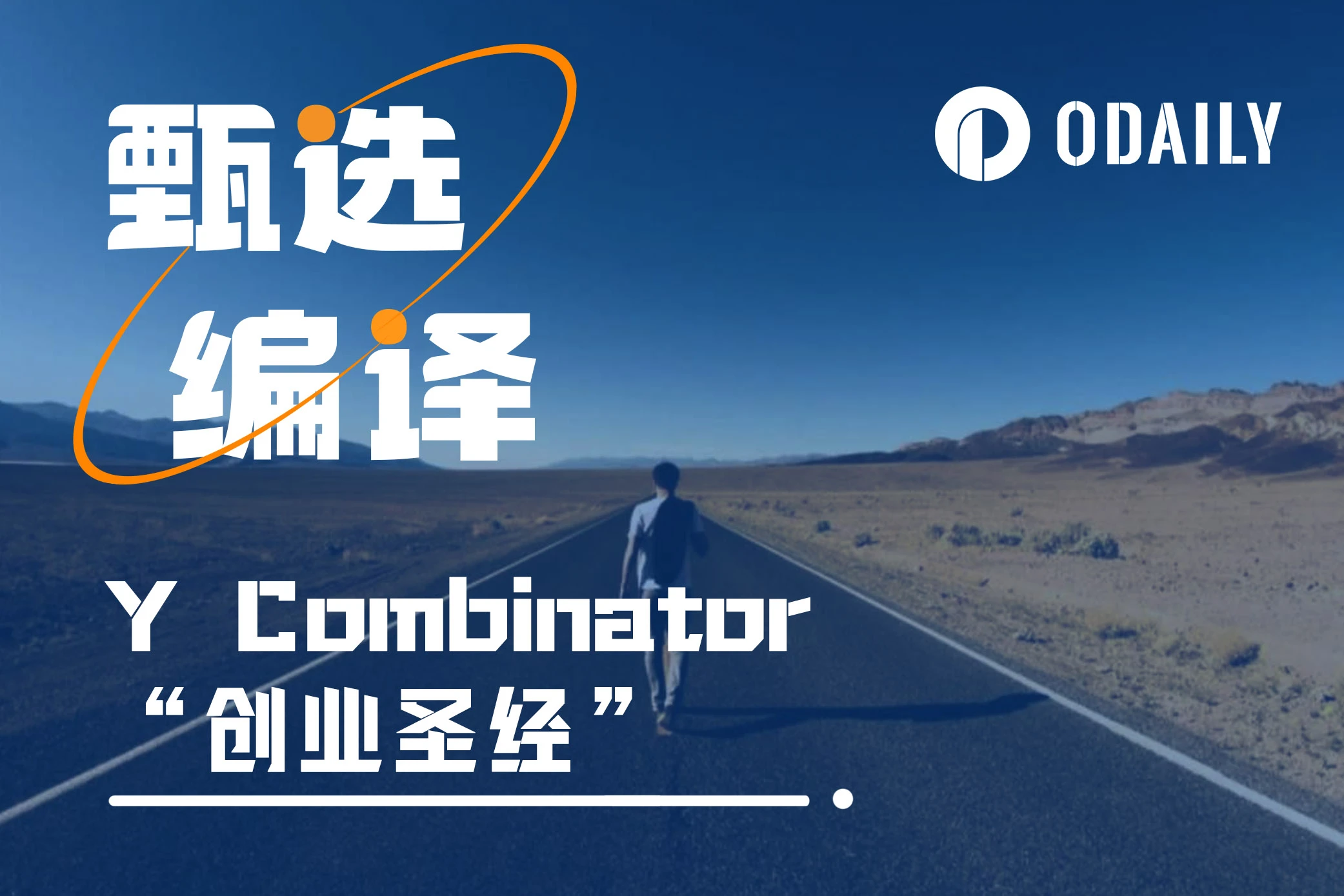 Exactly ten years ago,Paul Graham, the founder of Y Combinator, wrote a long article called Do Things That Dont Scale. In my opinion, this is one of the most important things Y Combinator has to say about the startup community.
Odaily Note: The original title of Do Things That Dont Scale is literally translated as Doing Things That Cant Scale, but this is difficult to understand in the Chinese context. Based on the content of the original text, what Paul wants to describe are those things that are difficult to scale and difficult to quantify, so in this article we choose to translate it into a popular meaning as Learn to start with stupid things.
The core idea of ​​the article is that in the early stages, startups must do the following: manually recruit users; manually provide them with an extraordinary experience.These are things that few big companies do, so they are considered Dont Scale things (that is, what we loosely translate as dumb things).
Since founding AllianceDAO 3 years ago, Ive been thinking about how applicable these suggestions are to startups in the crypto space. After 3 years and seeing the experience of nearly 200 startups, I have enough arguments to answer this question.
But before I give my answer, let me take you through some of the dumb things AllianceDAO alumni have done to recruit and delight their users.
Synthetix (ALL1 project)
Synthetix is ​​one of the earliest decentralized derivatives protocols and has long been among the top 100 according to FDV rankings.
Kain (Synthetix founder) recently came back to give a talk to the founders of ALL11, and he gave some advice that might surprise most people:"You have to learn the short-term narrative game."
When Synthetix started, it was the early stage of DeFi summer in 2020. At that time, the mainstream narrative of the DeFi community was liquidity mining, token pledge, TVL, etc. However, by 2023, most of these concepts have been It is no longer popular, and it has basically become an industry consensus that liquidity mining has a net negative impact on startups.
But in 2020, Kain embraced these narratives. Synthetix has conducted liquidity mining, supported token staking, and they have talked about TVL without mentioning it on Discord and Twitter. Best of all, these initiatives worked, and they attracted some of the most influential people (like DegenSpartan) to become their most ardent supporters.
I'm not trying to say that narratives like yield mining are still valid today, but I'm trying to tell you that the advice of "embracing the short-term narrative" still applies, especially when you're building a crypto-native product because the crypto-native community still Pretty small, everyone is probably only 1 or 2 contacts away from each other.
In addition to these initiatives, Kain himself is the most active member of the Synthetix Discord and has been closely interacting with the Synthetix community. To this day, he posts regularly about Synthetix, apparently in an effort to attract more users.
0x/Matcha (ALL1 items)
0x is one of the oldest DEX protocols, and they have also developed a trading aggregation product, Matcha.
When 0x was first launched many years ago, professional market makers were still skeptical of DeFi and DEX. It was almost impossible for them to proactively provide liquidity on the chain, so the 0x team had built an internal market making foundation. facility (which later grew into an independent entity called Periscope Trading).
This idea has two meanings.One is to quickly accumulate its own liquidity, which helps solve the cold start problem, because professional market makers are often only interested in exchanges that already have a certain amount of liquidity;The second is to bring in the role of market makers and personally experience the pain points of market making., which helps improve the product experience.
Eventually, as 0x attracted a more sustainable influx of liquidity, Matcha no longer needed market-making infrastructure.
Ribbon/Aevo (ALL2 project)

Ribbon is one of the earliest and most active structured product markets. They are now building Aevo, an options protocol with a market share of over 70%.
Julian (founder of Ribbon) came back and gave a speech at ALL10. Like almost every other successful DeFi protocol, Julian manually contacted the first users -He noticed that every option protocols Discord had the same 20 people, so he sent a message to each of them, bringing them into the Aevo community., because they have a natural interest in this business. The DeFi derivatives community is still quite niche, so you can easily communicate with just about everyone.
Julian has also done more things you can't think of. Because the overall liquidity of options on the chain is small, it is difficult for some users on Aevo to match suitable buy and sell orders. Julian will manually provide liquidity for them according to their needs. Post an order.
Mux (ALL3 project)
Mux is the top three perpetual contract trading protocols on Arbitrum.
Mux was formerly known as Mcdex, and the project began to appear in the public eye in 2020. Fortunately, DeFi Pulse and Bankless quickly discovered Mcdex and reached out to Jean and Jie (the two co-founders of Mcdex) because they liked the product. Jie once negotiated a deal with DeFi Pulse and Bankless. DeFi Pulse and Bankless each wrote an article for Mcdex after charging a recommendation fee, and Mcdex took off.
More importantly,Jie barely sleeps, and his sleep pattern is called 996 in China (I heard it's now 997). I would lurk in their Telegram group and I would see him replying to users at 11pm local time. Note that he is just a technical founder, and I rarely see technical founders do this.
Dodo (ALL3 project)

Dodo is a decentralized exchange with a market share of approximately 5%.
DaiDai (co-founder of DoDo) has worked at another OG DeFi protocol DDEX since 2018, which was about two years before she participated in the founding of Dodo. In her spare time, she opened a blog called DeFi Labs, which mainly publishes educational content about DeFi.
In order to get to know her readers more closely, DaiDai pulled them into a WeChat group named DeFi the World. She would also meet her group friends regularly in real life. Since then, DeFi the World has become one of the largest DeFi communities in China. That was the story during the last bear market, when DeFi had not really become popular, so the largest meant about 100 people.
When she co-founded Dodo in 2020,These 100 people became Dodos first 100 users.
Pendle (ALL4 project)
Pendle is currently the hottest yield trading protocol.
I remember TN (Pendle co-founder) invited me to speak at their all-hands meeting to boost team morale.
TN does much more than that.In the early days, he contacted some liquidity providers (LPs) and arranged one-on-one meetings to recommend income opportunities on Pendle to them.Before founding Pendle, he had no sales experience, but after many attempts his sales skills became quite good, which also led to some conversions - in fact, most founders do not realize that they can become Excellent salespeople, and sales is actually a numbers game.TN also shares revenue trading strategies with potential LPs from time to time, and as they become more familiar with the protocol and team, they will convert into real users.
Similar to Synthetix, TN also identified the KOLs he wanted to work with and contacted them via Twitter private messages or emails. Today, most successful founders do this, but TN takes it a step further. He has done enough preparations,For example, when TN wants to cooperate with a certain KOL, he will study the interests and habits of the target KOL and compile information that he thinks the KOL can use publicly.. He did this for a while until he saw more organic promotion on social media.
Charmverse (ALL7 projects)
Charmverse is a leading Web3 community operation platform. The competitive environment was fierce two years ago, but most of their competitors have perished in the bear market.
The first version of Charmverse was a Notion with "token-gated" functionality. Apparently building a Notion from scratch is extremely difficult, so Alex and Matt (Charmverse co-founders) hacked Notions internal API and provided token gating functionality as administrators. This is how they acquired the first DAO customers.
Of course, Alex also participated in many industry conferences and established communication with key decision-makers in major DAOs. Many of them had written DAO proposals supporting the adoption of Charmverse, which were eventually voted on.
In order to convert existing Notion users into Charmverse users, Alex did a very laborious thing——Manually transfer their Notion content to Charmverse.Then, he will hold a conference call with DAO members and teach them step by step how to use Charmverse.
Hubble (ALL7 projects)
The Hubble team created Kamino, one of the most popular yield optimization protocols on Solana.
In November 2022, when FTX collapsed, everyone was suggesting that Marius and Thomas (co-founders of Hubble) abandon Solana and move to Ethereum Layer 2. This idea has crossed the mind of every Solana Builders.
I remember discussing this with Marius and Thomas, and they concluded that Solana was here to stay because:
The soul of Solana is still there, and it still has some crazy developers;

Solana was technically competent, it was fast and cheap, and the much-maligned downtime problem was a solvable engineering problem that was eventually solved.

Anatoly is the most inspiring Layer 1/Layer 2 leader since Vitalik.

At the same time, they don't know how to compete with similar competitors on Ethereum.
Marius and Thomas made a very difficult decision, but in hindsight it was a good one.They chose to stick with a smaller but growing market that they knew very well (Solana), rather than a larger, more scalable market where they didnt have any established advantages (Ethereum).
Synquote (ALL7 project)
Synquote is one of the largest decentralized options protocols by trading volume.
After Synquote is launched, founder Ahmed will ensure that he and his team respond to user needs around the clock. certainOne morning, a large investor on the chain wanted to conduct a large trade. The team built a specific OTC product within a few hours, provided him with liquidity, and arranged a then-record-breaking transaction of more than 300 USD that afternoon. million dollar deal.
An unexpected benefit of 24/7 service is that users who see the product improve rapidly with their participation and truly get to know the team members gradually become the products most loyal supporters.
Tensor (ALL8 project)
Tensor is an NFT marketplace based on Solana.
Tensors co-founders Ilja and Richard used an on-chain data tracking website to find all the major Solana NFT owners and traced them back to their Twitter accounts. After sending private messages to all of them, Tensor and a few of them responded. The big players established communication.
This alone was not enough. At that time, Tensor was fighting a battle with Magic Eden, whose NFT sales were once so large that they were almost incomparable. Therefore, Tensor has established alliances with other NFT markets. It is worth noting that they have reached an agreement with Hadeswap. At that time, the latters NFT sales were almost ten times that of Tensor. As a deal, Tensor built a brand new front-end for Hadeswap in exchange for backlinks to Tensor, which significantly increased Tensors sales figures.
Of course, Tensor has made many other great decisions in its short history, but this collaboration with Hadeswap is undoubtedly a pivotal moment among them.
Liquifi (ALL8 project)
Liquifi is a token unlocking and distribution solutions service provider. Think of them as the Crypto version of Carta.
Working with Robin and Oliver (co-founders of Liquifi) is one of my favorite moments, they are so well prepared for every meeting. They would give me a list of all the AllianceDAO startups, ask me one by one if I thought they could be customers, and then contact them one by one. By the way, many AllianceDAO startups got their first customers through our community.
Robin and Oliver also sift through all public fundraising data, such as Twitter, Messari and Crunchbase, to find all potential customers.They will ask each investor to help introduce Liquifi to important decision-makers.Theyll even jump into a random Discord and just introduce themselves to everyone.
Clique (ALL8 projects)
Clique is an off-chain certificate issuer.
While participating in the AllianceDAO program, Clique founder Jaden conducted interviews with over 200 protocols to validate use cases for off-chain credentials. They then discovered the first powerful use of the Lens Protocol - Witch Defense.
Jaden then reached out to the Lens team. Jaden had just moved to New York at the time, and the Lens team was there.After three weeks of repeated negotiations, the Lens team finally agreed to a face-to-face meeting. However, on the day of the meeting, the Lens team stated that they had flown to attend ETHSF. Despite not having a ticket to the event, Jaden flew to San Francisco the same day, waited outside the venue until the event was over, and eventually approached Lens' Head of Partnerships. Jaden makes a proposal and gets Lens to sign the agreement.
Jaden and fellow co-founder Kevin then built some specific features to meet Lens' needs. Jaden once half-jokingly told me that Clique was the hardest product to scale in the crypto industry, but eventually, Optimism and other Layer 2s noticed that Lens was using Clique and became their customers after proactively reaching out to Clique. Things that don't immediately "scale" may eventually bring you unexpected rewards.
Yakoa (ALL8 project)
Yakoa aims to protect Web2 and Web3 brands from on-chain intellectual property theft.

Yakoa co-founder Grahams B2B sales strategy is to be there.During negotiations with one client, Graham and another co-founder, Andrew, flew across the country twice and spent a day working in the clients offices to understand the entire team and dynamics; they sat down with multiple levels of leadership to talk They chatted, which is almost impossible to do on a conference call, and they had dinner with the employee who was actually doing the contact.Through this set of efforts, they finally found multiple pain points that they could help customers solve, and finally made the deal.
Stride (ALL9 items)
Stride is the mainstream liquidity staking protocol in the Cosmos ecosystem.

When Stride first launched, co-founders Aidan, Vishal and Riley took turns staying on call around the clock until they confirmed the protocol was safe enough.For the first two weeks, one of the co-founders had to wake up at 3 a.m. to ensure that the protocols regular IBC packets were sent to Cosmos correctly and that the protocols accounting reconciliations were correct.
While most of the founders are very active in their own Discord and Telegram, Stride's founders additionally monitor the Discord servers of all other ecosystem stakeholders, such as those of Osmosis and Mars, and answer all questions. This is because all other Cosmos ecosystem users can use Stride to stake their native tokens for liquidity.
Finally, they even set up a program to crawl the content of all these Discord servers and dump the relevant information into their own Slack, which allowed them to quickly answer user questions without being actively monitoring them.
Primodium (ALL9 project)
Primodium is a full-chain game with good daily activity data.

Primodiums co-founders Emerson and Morris both have traditional game development backgrounds. With the help of AllianceDAOs Will Robinson, they spent a year building a solid on-chain gaming community.Like Ribbon and the on-chain derivatives community, the on-chain gaming community is quite niche and you can get in touch with most of the "important" members of the community.
So Emerson and Morris just posted the game on Twitter and told everyone in the community, but after that, the game spread first among private individuals by word of mouth, and then slowly began to appear more and more on social media. discussion, and even a Wall Street Journal article mentioning it.
The lesson here is that when a community is small, you don't have to do anything particularly innovative to get started.Put some effort into building strong relationships that will pay off for you once you get started.
Sleepagotchi (ALL9 project)
Sleepagotchi is a gamified sleep tracking app that ranks #1 in 30-day and 90-day user retention of any Crypto to C app I've seen.
Sleepagotchi co-founder Anton identified the Axie Infinity community as potential early adopters. At that time, "play 2 earn" was a hot topic in the market, and Sleepagotchi positioned itself as "sleep 2 earn".Anton offered Axie Infinity users a free service on Twitter to 3Dize their characters - Twitter users would share their favorite 2D Axies, and Anton would help them create 3D versions - a move that sparked the founding of Axie Infinity JiHo attracted the attention of JiHo, who forwarded their work, and later invested in Sleepagotchi.
Anton did something similar in the BAYC community. He knew Eminem had a monkey and decided to 3D 3D his NFT. In June 2022, the day after Eminem and Snoop Dogg released a new song during NFT NYC, Anton unveiled the 3D monkey he had made. The tweet quickly went viral and received more than 30,000 likes within a few hours. .
The most important thing is that Anton will convert potential users to their Discord rather than the mobile app because there is less friction to get into Discord than to install the app. Anton found that many people came to Discord just as a joke and wanted to check out this funny-sounding sleep 2 earn project. But for every question, serious or not, Anton's team responds with 2-3 paragraphs. This allowed people who were initially only mildly interested to realize that the team behind the project took their idea seriously, and ultimately decided to install the app.
Refract (ALL10 projects)
Refract is a Crypto security services company.
When Refract was first released, an NFT platform called Premint was hacked, and Refract founder Nish sent a private message on Twitter to everyone who claimed that they had been hacked. This isn't some nasty "you could have avoided the loss with Refract" marketing, just an objective account of what actually happened.
After that, every time a major hack occurred, Nish would write a post-mortem report on Twitter. Ive seen some of these analyses, and theyre more compelling than almost anything else Ive seen in the Crypto space, because people are always more emotional when they lose money.One time Nish showed me Refracts user data, and there was a surprising correlation between the growth of new users and the occurrence of major hacking attacks.
Caldera (ALL10 projects)
Caldera is a RaaS service provider that provides one-click rollup service.
The most that Caldera co-founder Matt did to sign up his first B2B customers was help them build some minimal ad hoc features, each feature might take a developer 2 - 5 working days to complete, like adding secp256r1 curve support (EIP 7212)...yeah, its pretty obscure that most founders dont I think this is something that can change the situation.
As a result, however, these efforts resulted in a lot of good customer will. Customers are so pleased that Caldera is willing to provide such high-quality and customized support that they tell their friends about it, which in turn brings more customers to Caldera.Please note that in the B2B market, customers generally know each other.
Interestingly, Jaden and Matt from Clique are also friends. Over the past two years, the most common thing Jaden has said to Matt is Are you sure this thing can expand?
Guardrail (ALL10 project)
Guardrail is a protocol security detection and investigation tool.
Guardrails first customer happens to be another AllianceDAO alum, Pendle. Guardrail co-founder Sam joined Pendles Discord as a user to provide feedback on their product, got in touch with their head of development, and then asked for his help connecting with Pendles head of internal tools, who ended up being Core users of Guardrail. I know this list of things sounds a bit confusing, but the point is, for B2B businesses, it usually takes some time and a few jumps to find the real decision-maker.
It is worth mentioning that,This customer (Pendle) lives in Singapore, so most of the discussions took place 12 hours apart, and Sam did all the customer service work between 12 am and 2 am local time.After the product demo, customers asked for some unique use cases, such as automatic refresh that would allow them to see Guardrail on their TVs throughout the day. Sam and his team implemented this feature for them within a week.
Kravata (ALL11 project)
Kravata is the most commonly used fiat deposit and withdrawal service in Latin America, and its clients include some of the largest Latin American exchanges.
Felipe, co-founder of Kravata, understands that behind a company there will always be people, and people will always need to eat, drink, and socialize. I find this to be especially true in countries with weaker legal systems, where relationships are more important.
In order to acquire the first batch of customers, Felipe arranged face-to-face offline communication with customers, drank some coffee and ate some snacks. Felipe would always take the initiative to check out, and paid out of his own pocket instead of using company funds. . Just like the people in Yakoa, Felipe would often fly to the cities where his clients were located to meet with them. He would talk about topics that everyone could understand and care about, and he would find some friends with similar interests in the conversation. Felipe also provides some free business advice and helpful resource introductions. If you have met Felipe, you will agree with me that he is the best representative of humility and honesty, which is one of the reasons for his success.
The most important lesson here is that Felipe always does a lot to make his clients feel comfortable before it comes to selling.
Learn to start with "stupid" things
After reading the above story, I hope you and I have come to similar conclusions.The advice of learning to start with the "dumb" thing still applies in most cases to the Crypto startup industry, whether they are going to B or C, whether they own the token or not…Some of the most successful crypto startups have done some extremely manual and painstaking things to acquire and delight their users.
But there is one thing to note.Crypto does offer a native, scalable way to acquire early adopters, namely token incentives.Token incentives may be one of the biggest breakthroughs for Crypto. Other big breakthroughs include asset ownership (Bitcoin), data ownership (SocialFi), permissionless programmatic (Ethereum), free fundraising (IC0), permissionless financial services (DeFi), culture (NFT) and Tokenization of Everything (RWA).
From the Bitcoin era to the present, token incentives have gone through a long period of development, from immediate rewards, to retroactive airdrops, to the current point-not-token system. Empirically, these are extremely powerful, scalable user acquisition strategies. They are very useful and worth studying in depth.
However,Token incentives are not a panacea, they are not a replacement for things that are "non-scalable", they work as a supplement but not as a meal replacement, many of the AllianceDAO alumni mentioned above launched token incentives while performing heavy manual work.
Even those cryptographic protocols whose tokens are so important that it can be said to be almost equal to the product itself, such as DePin, stablecoins, StepN (ALL7 project) and other games, as well as some Layer1, etc., often start from friends, investors and A random subset of users on social media.
In 2008, Satoshi Nakamoto exchanged emails about Bitcoin with his/her/their crypto friends (including Hal Finney and Wei Dai), who in turn spread the word personally to a group of early Bitcoin users on bitcointalk.org concept. The founding team of Ethereum promoted it globally in 2014 through conferences such as Devcon0, promoting it to a small group of early developers. These are the best examples.