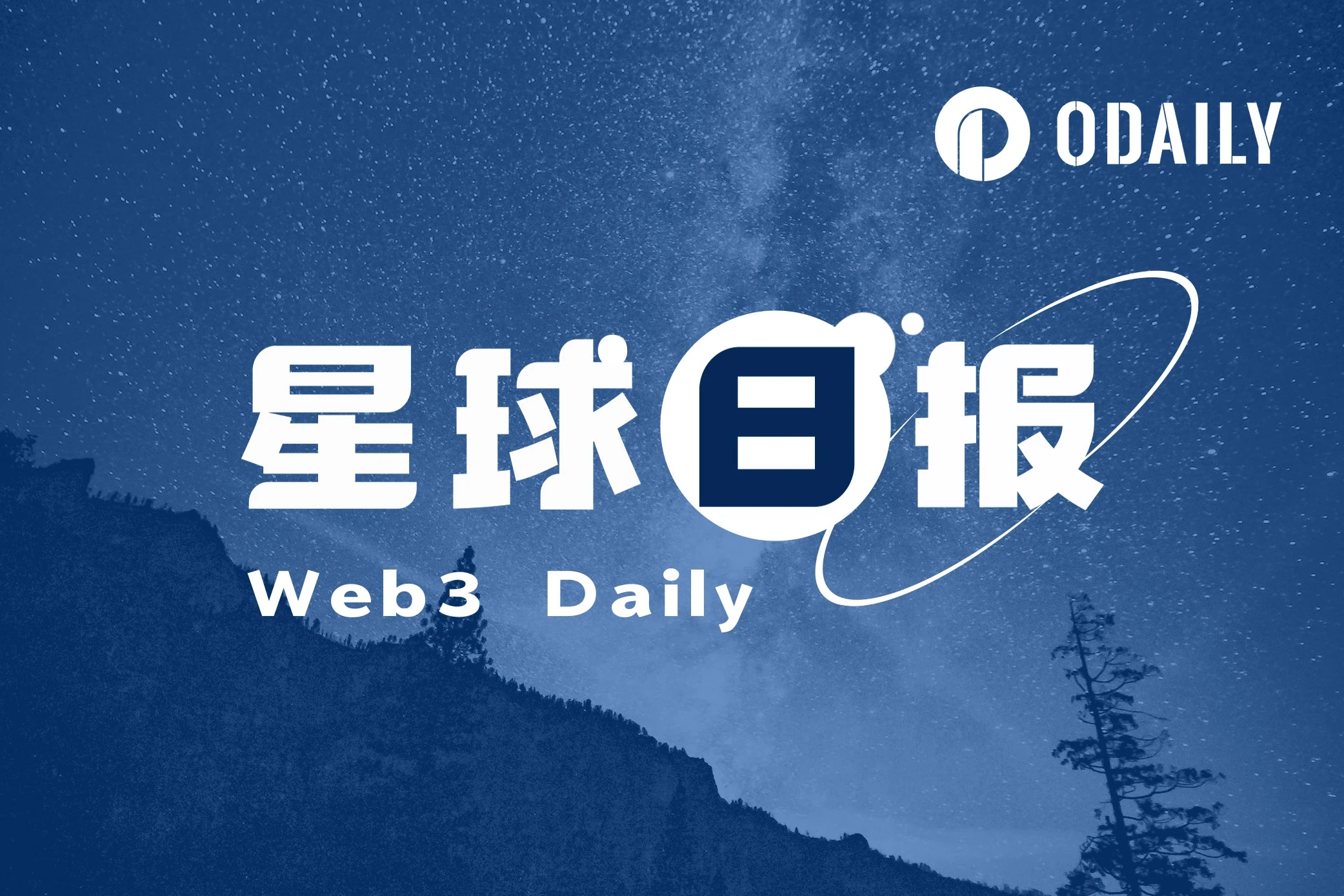 headlines
It has been 15 years since the release of the Bitcoin white paper, and the largest increase since then has exceeded 86 million times
It has been 15 years since Satoshi Nakamoto released the Bitcoin white paper Bitcoin: A Peer-to-Peer Electronic Cash System on the P2P foundation website.

At 6:15 pm on January 3, 2009, the Bitcoin genesis block was generated in a small server in Helsinki, the Netherlands, marking the official birth of Bitcoin. Bitcoin was trading at $0.0008 early on. If calculated based on the historical high price of $68,789, Bitcoin has risen more than 86 million times since then.

Industry news
Weekly correlation between BTC price and Nasdaq Composite hits lowest since August 2021
Reflexivity Research data shows that the weekly correlation between BTC price and the Nasdaq Composite Index fell to -0.39, the lowest since August 2021.

Tether Q3 report: Comprehensive total assets exceed liabilities, and the ratio of cash and cash equivalent reserves reaches a new high, reaching 85.7%
Tether Holdings Limited released the third quarter 2023 assurance report completed by independent accounting firm BDO. As of September 30, 2023, consolidated total assets were at least US$86,384,653,832, exceeding total consolidated liabilities of US$83,176, $997,409. The proportion of Tether's cash and cash equivalent reserves reached a record high of 85.7%, the vast majority of which are U.S. Treasury securities totaling $72.6 billion, including direct and indirect exposures. Additionally, the amount of secured loans provided by Tether was significantly reduced by more than $330 million.
Valkyrie has filed revised documents for Bitcoin spot ETF application
Bloomberg ETF analyst James Seyffart posted on the X platform that Valkyrie has submitted a revised version of its Bitcoin spot ETF application to the U.S. SEC. Everything is still going on behind the scenes.

Bloomberg ETF analyst Eric Balchunas commented: "This is why we do not infer a greater than 90% probability of approval of a spot Bitcoin ETF on or before January next year."
CoinGecko: Maestro is the most profitable BOT, with a total income of 13,200 ETH
CoinGecko published an article on the 8950 ETH; Banana Gun ranked third with a profit of 1940 ETH; AimBot ranked fourth with a profit of 1340 ETH.

In addition, in the past three months, the accumulated income of encrypted BOT was 2.929 million ETH.
Nearly 150 million PYUSD, the US dollar stable currency launched by PayPal, has been issued
PayPal USD (PYUSD), the U.S. dollar stable currency launched by PayPal, currently has a total of nearly 150 million units (148, 340, 937) issued, with an increase of nearly 40% in the past 7 days. Currently, the total number of addresses held on the chain is 1,594, and the number of transactions on the chain is 9,308. Pen.

The total locked-up volume of Layer 2 exceeded US$12 billion, a record high
According to data from L2bet, the total locked-up volume of the Layer 2 network currently exceeds US$12 billion and currently stands at US$12.03 billion, with an increase of 3.89% in the past seven days. Among them, Arbitrum One ranks first in terms of lock-up volume, with a lock-up volume of US$6.63 billion; OP Mainnet ranks second, with a lock-up volume of US$3.04 billion; Base ranks third,11 with a lock-up volume of US$572 million.

The size of the tokenized U.S. Treasury bond market exceeded US$700 million, an increase of nearly 6 times from the beginning of the year
According to data from RWA monitoring platform RWA.xyz, as of press time, the size of the tokenized U.S. Treasury market has soared to $700 million from about $100 million at the beginning of the year, an increase of nearly 6 times. RWA.xyz co-founder Charlie You said the expansion was driven by new entrants in the space and growth of existing platforms.
Additionally, the U.S. Treasury token on the Ethereum chain recently surpassed the Stellar network in value, while latecomers Polygon and Solana also attracted over $40 million in assets, demonstrating the "diversified blockchain landscape of tokenized assets." .
FTX related events
SBF testifies again in fraud trial, closing arguments could take place as early as Tuesday local time
SBF returned to testify, facing cross-examination by prosecutor Danielle Sassoon, who sought to highlight evidence that FTX and SBF assured investors that the exchange was safe. SBF often responds with Im not sure and wont answer questions directly. The SBF said not sure 99 times, Bloomberg courts reporter Bob Van Voris reported. Closing arguments could come as early as Tuesday, local time, instead of Wednesday.

SBF said it did not recall telling the Bahamas prime minister that FTX would repay the countrys $11.6 billion debt.
SBF acknowledges that some companies have privileges on FTX, including a Three Arrows Capital affiliate
The SBF acknowledged during Monday's court hearing that some crypto companies have certain privileges on FTX. When prosecutors asked FTX customers whether they could put up their stakes in outside investments as collateral on the exchange, SBF said a company called Crypto Lotus, which is affiliated with Three Arrows Capital, could do so.

FTX/Alameda address transfers 10.5 million USDC, 21.7 million REN and 131,900 SOL
According to Pidun monitoring, the FTX/Alameda address transferred approximately 10.5 million USDC and 21.7 million REN (USD 1.1 million) to Coinbase Prime on Ethereum, and transferred 131,930 SOL (approximately 4.6 million USD) to Binance on Solana. Ten thousand U.S. dollars).

As of now, FTX/Alameda's Solana wallet holds approximately $103 million worth of cryptocurrency.
Alameda again deposits $19.5 million in assets to Coinbase
According to Spot On Chain monitoring, Alameda deposited three assets worth a total of $19.5 million to Coinbase:

7.17 million RDNR (approximately $18.06 million)
8.447 million MKR (approximately $1.18 million)
2.5 million GRT (approximately $273,000)
Project News
Celestia has completed mainnet beta deployment
Celestia has completed the deployment of its mainnet beta, marking the launch of its modular network. The mainnet beta version is run under the codename Lemon Mint and introduces Data Availability Sampling (DAS). The technology aims to provide a new scaling method that enables blockchain nodes to confirm data availability without downloading the entire data set for a given block.

According to Odailys query, the TIA genesis airdrop has been directly added to the eligible addresses, which can be queried by adding the Celestia mainnet in Keplr.
Avalaunch announces end of partnership with Stars Arena
Avalanche-based DeFi platform Avalaunch announced that it has decided to terminate its partnership with Stars Arena after careful consideration of recent events.

Avalaunch said that in the early days of Stars Arenas launch, given the active data the project brought to Avalanche, Avalaunch contacted the Stars Arena team to try to explore how to help. Unfortunately, too many things have happened recently around the project that are either uncomfortable or simply incomprehensible. While there is currently only an informal partnership between the two teams, as Stars Arena mentioned the partnership on social media last week, it was necessary to synchronize this information with the community for clarification purposes.
Stars Arena announces the departure of another team member and will transition to a new team without former members
Stars Arena, a Web3 social finance application based on Avalanche, posted on the
Bittrex bankruptcy plan approved by U.S. court, will close its U.S. operations
Cryptocurrency exchange Bittrex's bankruptcy plan has been approved by a U.S. Bankruptcy Court that will shut down its U.S. operations and allow the company to adopt a liquidation plan that will pay remaining creditors in full. Bittrex previously spent months returning cryptocurrency deposits to customers.
Argent announces discontinuation of support for zksync Era to focus on Starknet
Wallet service provider Argent said in an open letter to users that after six months of alpha phase testing and careful consideration of user feedback, it has decided to stop supporting zksync Era and focus on Starknet.

Argent said: We believe in the huge potential of Starknet and therefore want to prioritize the development of products to support its ecological growth. Starting January 31, 2024, we will begin to gradually reduce support for the zkSync Era and will no longer continue to support it. It is building new features, and while this will not impact user account security, users will experience a significant performance degradation because we will be cutting back-end infrastructure services.
Argent finally said: "We strongly recommend users to transfer their assets on zkSync Era from Argent to another zkSync Era-supported wallet, such as Metamask, as soon as possible. If users still want to save assets through Argent, they can use the LayerSwap cross-chain bridge to bridge them to Starknet or Ethereum mainnet."
Unibot: All funds lost due to new Router issues will be compensated, keys and wallets are safe
Unibot announced on the X platform that it has encountered a token approval vulnerability in the new Router and has suspended our Router to contain the problem. All funds lost due to issues with the new Router will be compensated, keys and wallets are safe

Bitget announces that it will delist TOKEN and repurchase it
Bitget issued an announcement that TOKEN will be removed from the shelves and repurchased. The specific announcement content is:

1. Bitget has suspended the deposit and trading services of TokenFi (TOKEN) tokens at 16:00 on October 31, 2023 (UTC+ 8), and canceled all pending orders;
2. Bitget will use the highest closing price of the TokenFi (TOKEN) token within the 5 days that Bitget is open for trading (from October 27 to October 31) before 16:00 on November 7, 2023 (UTC+ 8), that is, 1 TOKEN = 0.00605002 USDT, for repurchase;
Solana TVL crosses $400 million, hitting new high this year
DefiLlama data shows Solana TVL rose to $402 million, a new high this year. SOL is currently trading at 36.57 USDT, a 24-hour increase of 4.62%.

Character*Voice
People familiar with the matter: a16z plans to raise US$3.4 billion for its next early-stage fund, which is planned to be launched by the end of the year
a16z plans to raise about $3.4 billion for its next core early and seed-stage fund, people familiar with the matter said. Fund raising will begin around the end of this year, with a final expected close in the first half of 2024.

It is reported that the agency will seek (although not require) limited partners to invest through a new master fund, which will inject sub-funds (including some industry-specific funds).
Across Protocol founder: I don't mean to attack LayerZero, I just want to openly discuss decentralization issues
Across Protocol founder Hart Lambur once again posted about LayerZero.

Lambur said that the comments he made over the past few days were not an attack on LayerZero, but just an attempt to have a proper discussion about the security situation. Judging from LayerZero's current default configuration, the project's performance in terms of decentralization is not satisfactory. LayerZero runs the repeater on its own server. The code is closed source. Its oracle also chooses Google by default. This is a completely centralized service and also closed source.
Lambur continued: "My point is that it is dangerous and unethical for LayerZero to claim to users that its system is decentralized, because this is not the case. Any wstETH bridged to a chain such as BNB through LayerZero's OFT standard simply needs Shut down one of the two computers running (the repeater, the Google oracle) and you become a brick, and that cannot be allowed."
Lambur concluded: "I hope developers considering using LayerZero ask these important questions, and I also hope LayerZero will have an open, transparent dialogue about their design choices."
Gary Gensler: Congratulations on the 15th anniversary of the Bitcoin white paper
U.S. SEC Chairman Gary Gensler posted on the X platform to congratulate Satoshi Nakamoto on the 15th anniversary of his famous white paper, which created the history of cryptocurrency. Any cryptocurrency company that defrauds investors should start complying with securities laws.