Weekly Editors Picks is a functional column of Odaily. In addition to covering a large amount of real-time information every week, it also publishes a lot of high-quality in-depth analysis content, but they may be hidden in the information flow and hot news and pass you by.
Therefore, our editorial department will select some high-quality articles worth spending time to read and collect from the content published in the past 7 days every Saturday. From the perspectives of data analysis, industry judgment, opinion output, etc., we will provide those in the encryption world with You bring new inspiration.
Next, come and read with us: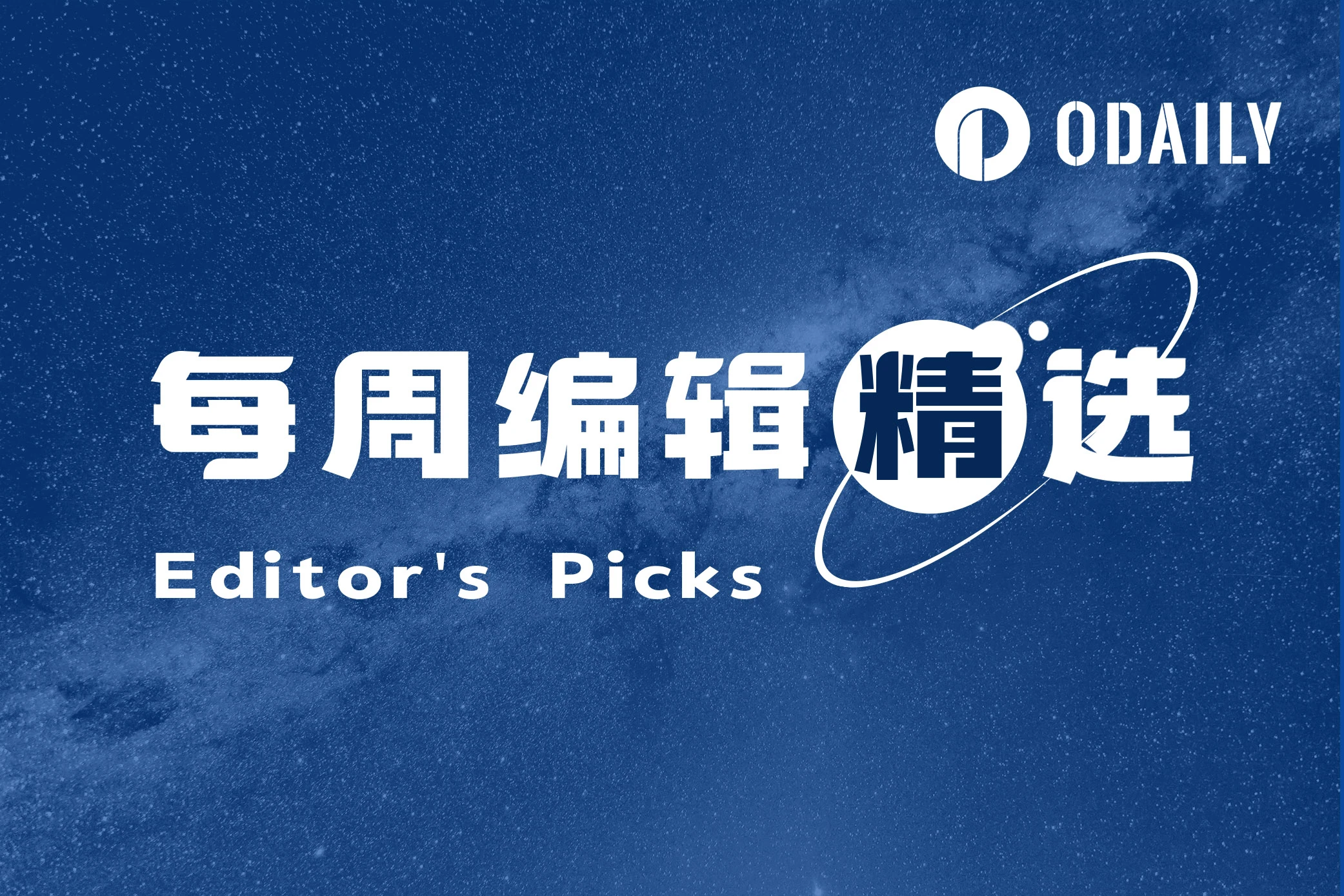 Investment and Entrepreneurship
The Barbell Strategy for Crypto Markets: A Great Balance of Risk and Reward
Allocate the assets of the investment portfolio between the two extremes, namely conservative assets (U.S. bonds) and high-risk assets (crypto) to achieve a balance of risks. The specific ratio depends on personal risk tolerance, investment goals and time horizon. Common 8 : 2 . In the crypto market, you can compound interest on the left and leverage on the right.
Mint Ventures: It's the right time to buy the bottom, a discussion on the secondary bottom-buying targets and ideas in the bear market
Excerpts of a few guest opinions: We are not yet at the early stage of the bull market where we have to fill up all the bullets. Some copycats are still in the process of finding the bottom. Six points are allocated to price and four points to fundamentals. I may be more inclined to allocate some Ether-based stocks as a pressure in this cycle, similar to Bitcoin, Arbitrum, Optimism, and Lido. I personally am more optimistic about consumer apps recently. No matter the specific engine of the bull market, Regardless of the track or the narrative, the characteristic it must have is that it can bring about a good money-making effect or wealth effect. From this perspective, I may currently consider three, one is social and the other is game , and then the other one is a meme."
LD Capital: Analysis of Coinbase's investment logic and growth potential (23 Q3 Update)
Coinbase stock is up more than 173% this year, a rise attributed to Bitcoins 122% gain since the beginning of the year and technology stocks 40% gain. Although business growth in the next 12 months will be limited due to external conditions, coupled with many unrealized benefits, the potential for revenue growth within 24 months is huge. Coinbase vigorously develops ancillary businesses to bring new growth points: international stations, derivatives trading, USDC, and on-chain businesses. Coinbase may continue to gain more market share than Binance and become the largest exchange. Possessing the necessary compliance qualifications makes Coinbase one of the biggest beneficiaries of Spot ETFs. However, regulatory pressure has caused compliance costs to rise.
In the base case, Coinbases fair value is $89, which is 16% undervalued at the current price of $74.
Bitcoin Ecology

As the halving approaches, is investing in Bitcoin miners a good business?
While the actual impact of the halving will be to double the cost of production for Bitcoin miners, Bitcoin mining stocks may still be a good fit for certain cryptocurrency portfolios. Assuming history repeats itself, miners may face a difficult 12-16 months until the effects of the next halving are fully felt to make up for the reduction in rewards. But at the same time, miners are among the largest corporate holders of Bitcoin in the world.
It is important to consider several factors such as production costs, debt on the balance sheet (which may increase the need to sell Bitcoin to cover expenses and harm the long-term interests of its finances).
MT Capital Research Report: Stacks Nakamoto is about to be upgraded, injecting new impetus into the BTC ecosystem
Observing the historical trend, STX always lags behind the trend of BTC, and its rise and fall are greater than that of BTC. It is also relatively strong compared to other currencies in the BTC ecosystem.
The BTC halving is approaching, and the popularity of the BTC ecological concept continues to rise. Stacks, as the leading project in the BTC ecosystem, will usher in the Nakamoto upgrade in Q4. The fast block generation every 5 seconds and the trustless sBTC will bring DeFi possibilities to BTC, and it is expected to Make the Stacks ecosystem further prosperous.
Among the BTC ecological concept coins, STX has the largest number of listings and is listed on all mainstream exchanges including Upbit. It is also the most liquid target and can be used as a phenomenon-level indicator to observe the entire BTC ecosystem.
Stacks uses the Proof of Transfer (PoX) consensus mechanism to implement smart contracts and decentralized applications based on the Clarity language based on the security of Bitcoin. It mines and enhances its function as the second layer of Bitcoin by locking Bitcoin. Including fast processing of transactions and guaranteed Bitcoin finality.
The Stacks ecosystem currently has a TVL of more than 19 million US dollars, the number of deployed smart contracts exceeds 120,000, and the number of wallets exceeds 760,000. The ecological projects are relatively complete.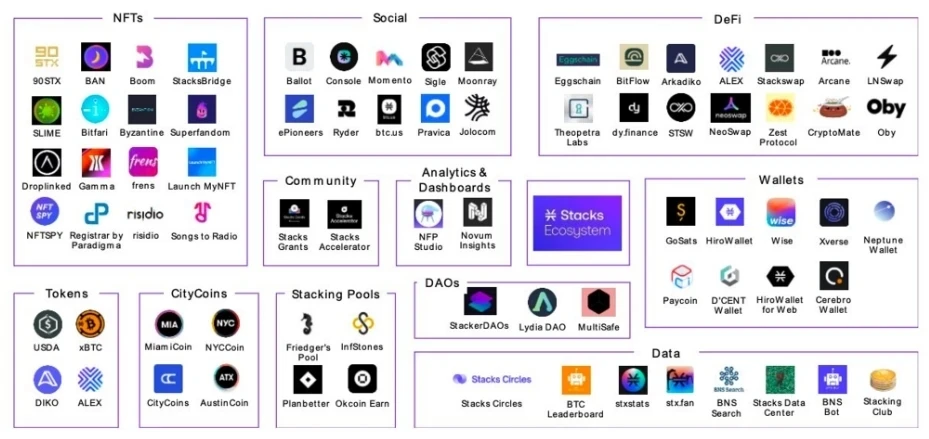 Mint Ventures: The skyrocketing logic and collapse path of Inscription Assets
The participants of Inscription Assets summarized the characteristics of promising BRC 20 assets as follows: good name, native, community-based, and chips-based. The value proposition of BRC 20 assets includes: a fair launch mechanism, a simple protocol format, and a single function. Therefore, there are no risks related to smart contracts. It enriches the accounting purposes and asset categories of the Bitcoin network, creates a large number of network fees, and can Fill the Bitcoin network security budget after the subsequent BTC block output continues to decrease. However, the change in BRC 20's technical mechanism has not brought much real innovation.
The exaggerated wealth effect of BRC 20 assets in the early stage was determined by comprehensive factors such as the low liquidity of the OTC order trading mechanism, the high proportion of mom-related investors, and the large number of stakeholders. Low liquidity will cause asset prices to skyrocket when they are rising, and will also cause asset prices to plummet when they cant find buyers when they fall. Factors for market collapse include: excessive issuance and rapid exit of sickle-shaped projects, user inflows stalling, and the main liquidity position will also transition to CEX.
Also recommended Ordinals ecology explodes, Ordinals core knowledge sharing that even novices can understand (with tutorials)》。
Ethereum and Scaling
As expectations for institutions to enter the market heat up, what is the future of the Ethereum staking track?
Ethereum ETF will follow Bitcoin ETF approval. The Ethereum ETF with Rewards is a natural extension of the Uncollateralized Ethereum ETF. Institutional staking voting will shift to liquid alternatives, bringing new challenges to Ethereum decentralization. The scale of institutional flows can be considerable. Large-scale, yield-insensitive inflows from institutions could push the overall amount of staked ETH higher than either economic principles suggest or probabilistic targets based on crypto-endogenous variables. Lido is currently the only viable option to keep the Ethereum staking layer robust and decentralized.
Interpretation of Vitalik's new work: Avoiding Rollup involution, is it related to L2's political flag-waving?
Plasma is used in payment scenarios to ensure that the ledger status is effectively tracked and recorded. Because Plasma does not have its own independent chain system like Rollups, it has to ensure that its side chain accounting is synchronized with the main network at all times. This allows it to not deliberately pursue decentralization, as long as it has an operation that can efficiently record accounts. Just the main body. The user needs to issue an exit game mechanism at any time to withdraw the assets on layer 2 back to layer 1, similar to Rollups escape hatch safety mechanism.
If a layer 2 side chain can only implement Payment transfer transactions, it will be difficult to build applications and ecosystems, which will greatly limit the use scenarios of Plasma. If the bottom layer of Plasma is completely ZK-ified, user operations will exist in the form of zk-SNARK proofs, which can release many EVM state machine scenarios.
A look at the top ten L2s: Arbitrum ranks first, and upstart Base breaks into the top five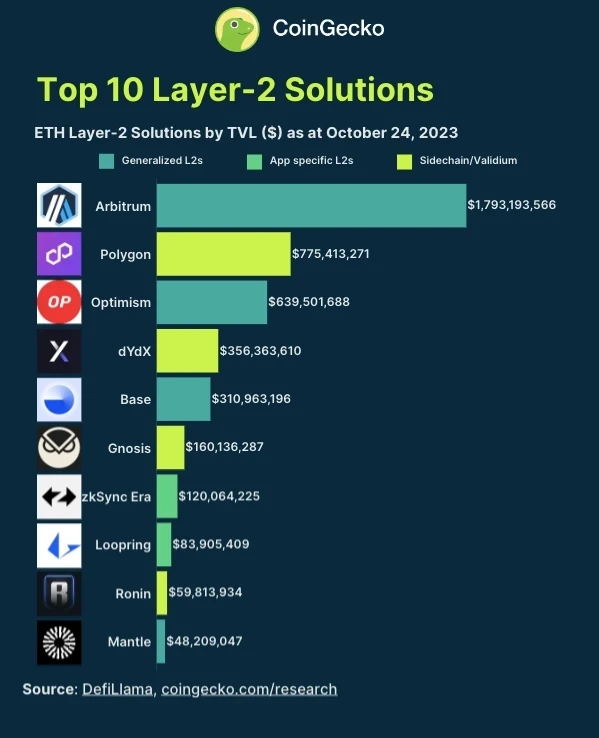 Total TVL of the top 10 L2 solutions increased by 45% compared to January 1, 2023 ($3 billion). The ARB token airdrop in March was an important factor driving the increase in its market share, triggering market discussions about L2, and many traders and investors are bridging liquidity to the Arbitrum chain.

New ecology and cross-chain
Ethereum or Solana? Everyone has a bright future
Polygons Sanket and zkSyncs Alex believe Ethereum has largely won the L1 game, but the Solana, Avalanche and BNB Chain teams disagree. NEAR's position is nuanced: Ethereum will continue to dominate, but other Layer 1 solutions will thrive in areas where Ethereum does not excel.
Solana's vision is to bring together all the advantages of cheap and fast transactions, fast finalization and low latency. Effectively, this eliminates the need for cumbersome cross-chain bridges at a fraction of the cost of the best current Layer 2 solutions.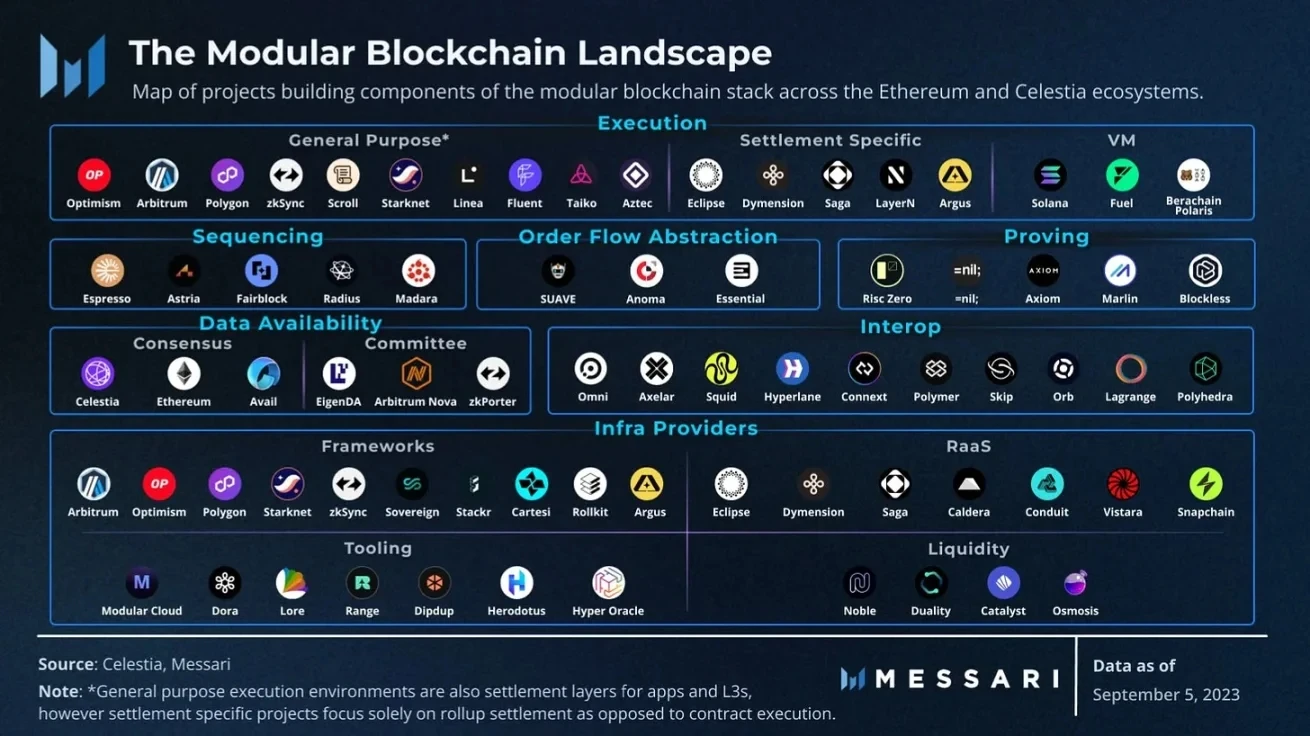 Solana seems to be a good fit for most GameFi, Metaverse, P2E, derivatives, options, etc. DApps. This is why TVL is not a perfect indicator of the Solana ecosystem. Ethereum has the most assets because it is a store of value blockchain. But these assets exist passively in smart contracts that generate revenue, while Solana emphasizes capital velocity—the volume of transactions allocated per dollar of TVL.

In a world constantly debating Windows vs. Mac, Android vs. iOS, its easy to get caught up in polarizing discussions. But as an investor, the question shouldnt be choosing one or the other.
Hot Topics of the Week
In the past week,U.S. CPI falls below expectations, hits lowest level since July,BlackRock files S-1 filing for its spot Ethereum ETF;
In addition, in terms of opinions and voices, Cathie Wood:Gary Gensler's political ambitions may be the reason why Bitcoin spot ETF is blocked,The Solana network is faster and has lower transaction costs than Ethereum and Bitcoin,Arthur Hayes:As USD liquidity rises, risk assets like Bitcoin will continue to soar, on-chain detective ZachXBT:GROK was created by scammers;
In terms of institutions, large companies and leading projects,Genesis files for court to reach settlement with Three Arrows Capital, lowering $1 billion compensation to $33 million,Bithumb attempts IPO again, expected to be listed in the second half of 2025,Compliance crypto group BGX invests in OSL and may enter Hong Kong with a license,PantherTrade, Futu's virtual asset trading platform, has submitted a license application to the Hong Kong Securities and Futures Commission,Circle officially announced that CCTP has been connected to the Noble chain, and native USDC has entered the Cosmos ecosystem,Uniswap wallet launches Android version,dYdX Chain Governance Proposal #1 on launching all trading markets was passed, the token positioning was upgraded, and new income possibilities were unlocked,Starknet:V 0.13.0 mainnet is planned to be launched on January 22, 2024, and will support STRK to pay transaction fees,Ordinals usher in Jubilee,pols FOMO causes Polygon Gas to skyrocket in the short term,Pyth Network: PYTH airdrop will allocate 55 million additional tokens to DeFi users;
NFT and GameFi fields,NFT market picks up,Blue-chip NFT floor prices have generally risen in the past week...Well, it's been another week of ups and downs.
Attached is the Weekly Editors Picks seriesportal。
See you next time~