Original source: M6 Labs
Welcome to this week's crypto market update. It's hard to believe the recent market dynamics, with prices rising in wave after wave, but the retail industry has yet to fully join in the fun. Although Bitcoin has yet to cross the $40,000 mark, predictions suggest that it could reach a price of $42,000 or even $45,000 by the end of the year. Let's dig deeper and evaluate how the market has performed during the recent pullback.
A few notes on the BlackRock ETF. On November 15, BlackRock took a major step forward by filing an S-1 application with the U.S. Securities and Exchange Commission to list its Ethereum ETF on the spot market. This S-1 filing is the important registration statement that a company must file with the SEC when seeking to have its ETF listed on the SECs list. In short, ETFs are coming.
This is a preview only, please click here to view the reportcomplete version。
Subscribe to our crypto industry insights and research,Get the latest news。
Highlights this week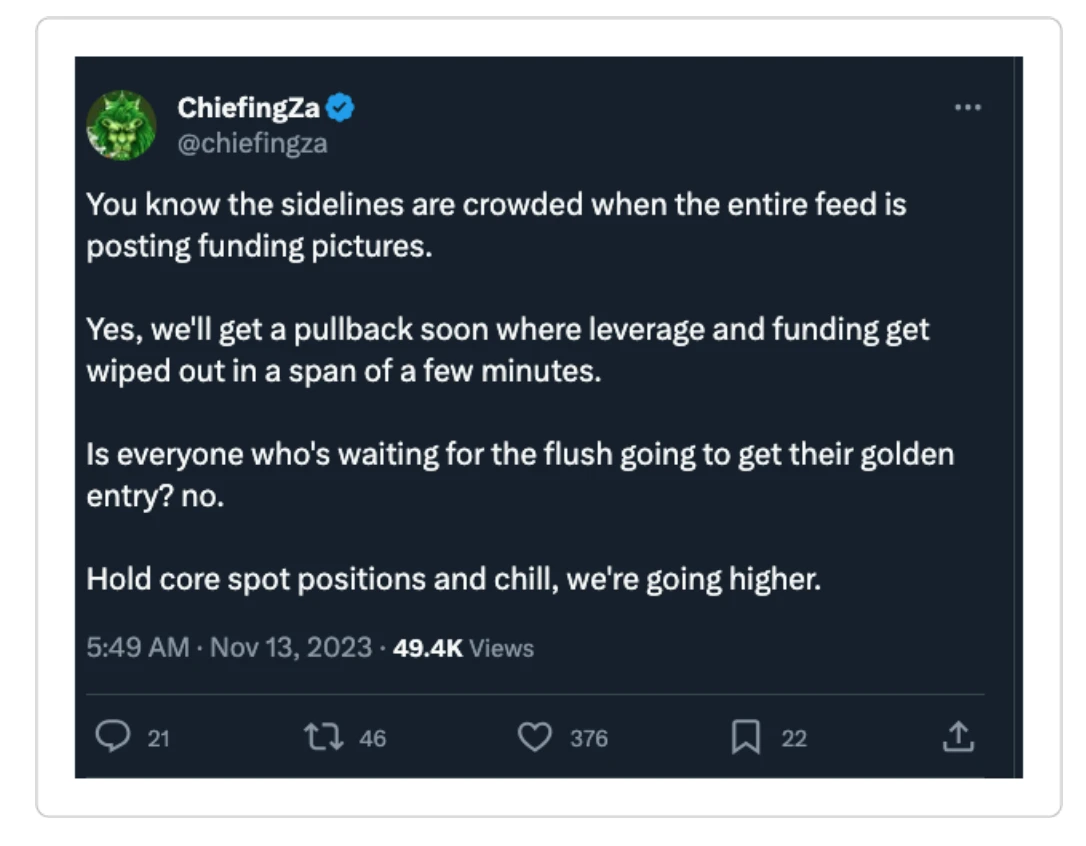 Dont be afraid of pullbacks, its all part of the game.
This weeks story: Whats going on as the markets cool down?
After several weeks of wild price swings, the market has pulled back a bit and things are cooling down. While this is not true for every coin, $TIA surged following the airdrop after the market was initially uninterested in it. Let's make sense of the recent chaos and reflect on the state of some important on-chain metrics.
Digital asset investment products saw net inflows of $293 million last week, bringing total annual inflows to $1.14 billion. The surge in inflows makes 2023 the third-highest year on record for annual inflows, driven largely by the past three weeks, which totaled about $900 million in net inflows.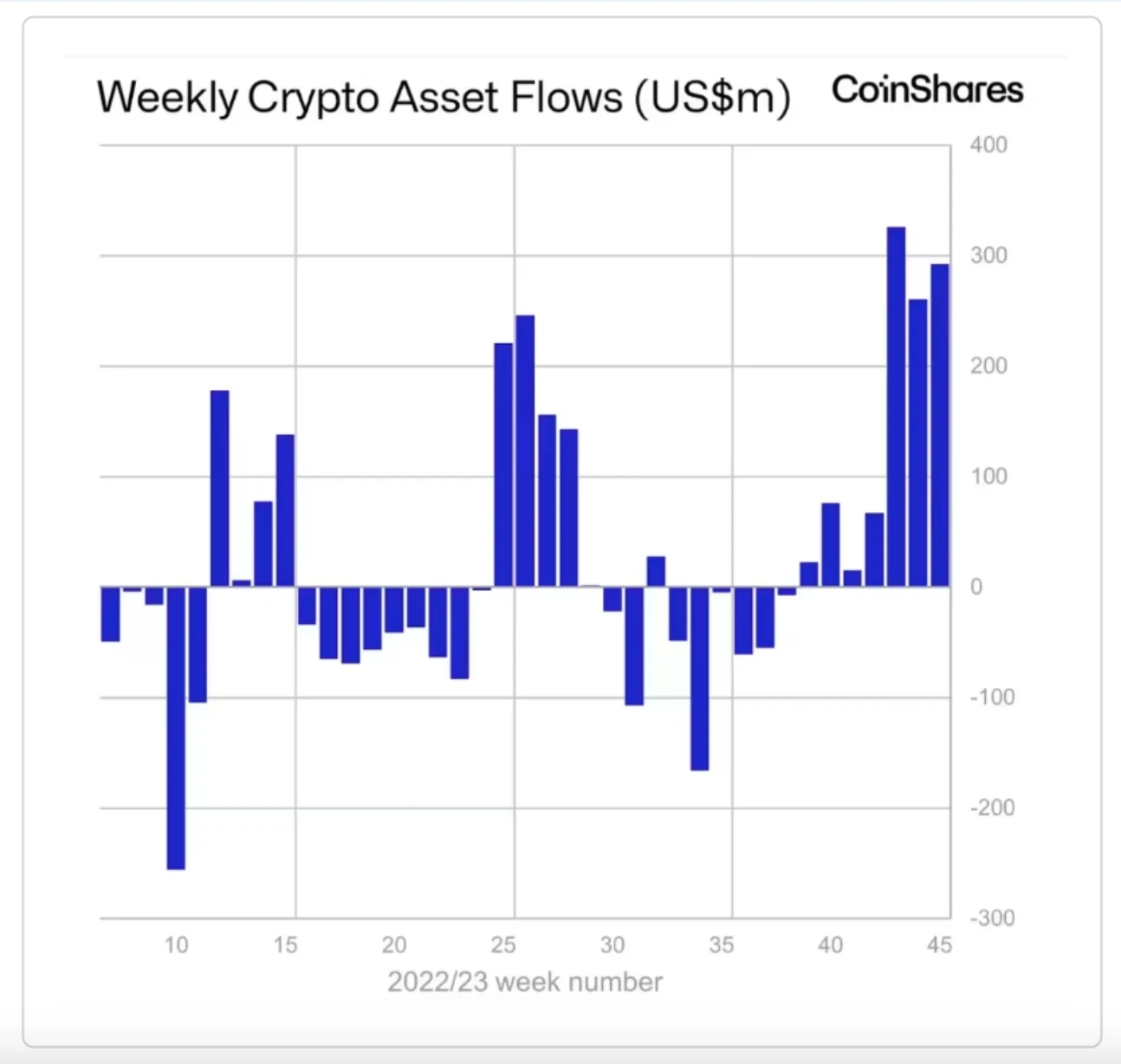 Source: Coinshares
Major cryptocurrency exchanges saw significant increases in spot and derivatives trading volumes and website visits in October, indicating continued growth in crypto market activity. Spot trading volume on major exchanges increased by 57.5% month-on-month, reaching a new high since April of that year.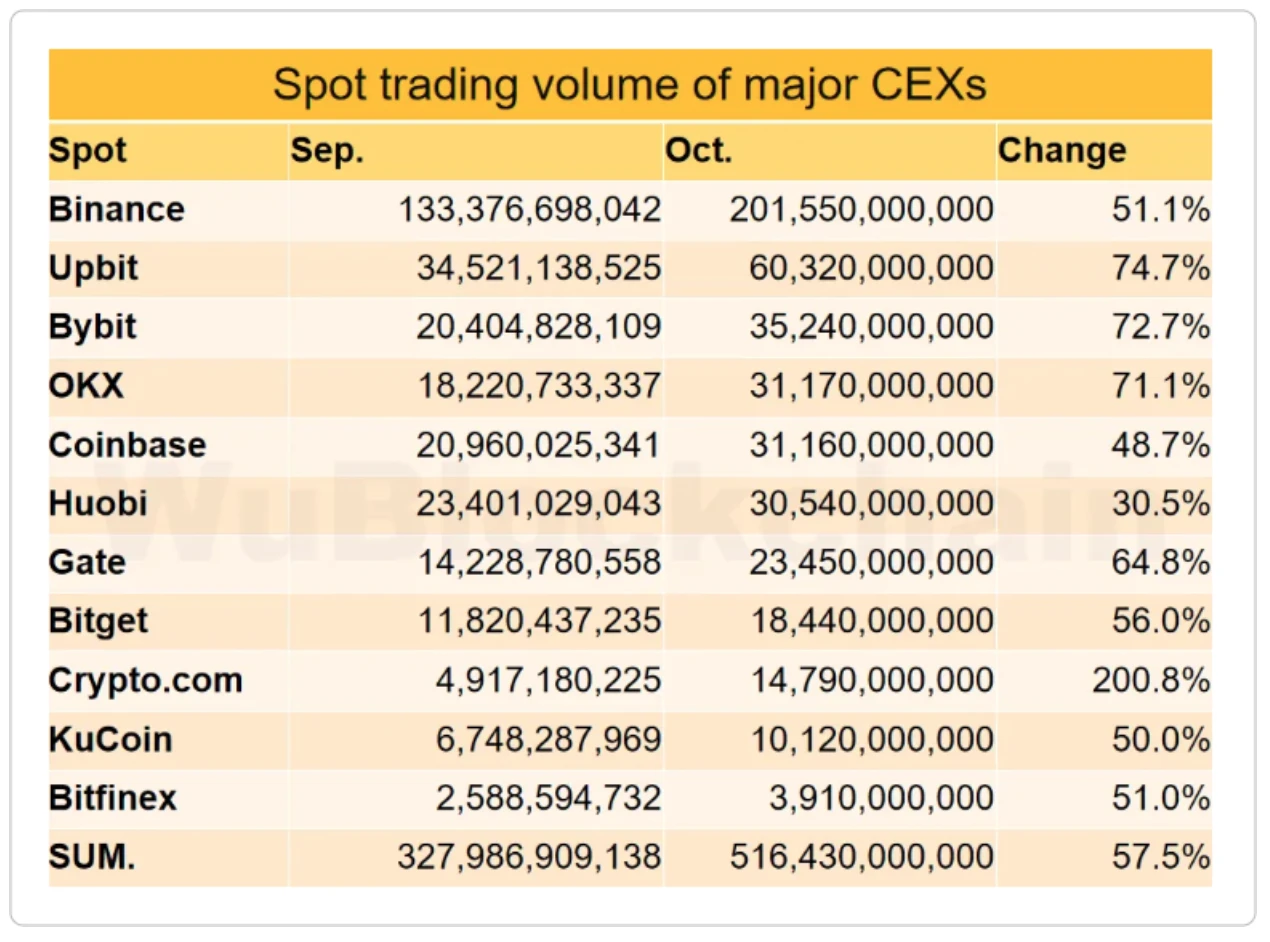 Source: WuBlockchain.
Google Trends shows that retail and general interest is almost non-existent at the moment. This may be the early stages of a bull market and expectations should be managed.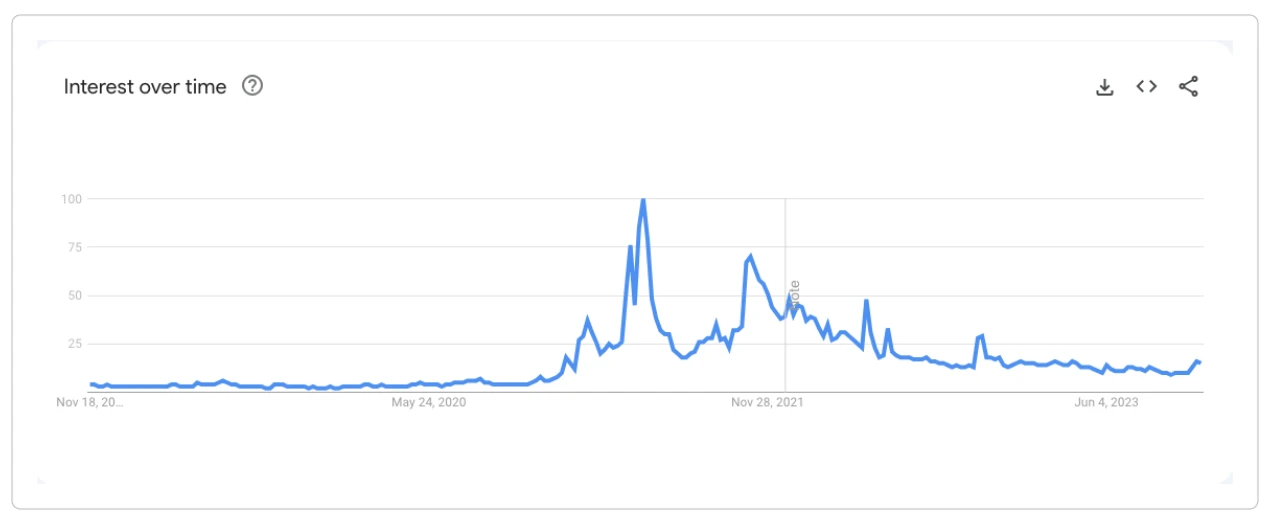 Source: Google Trends
Transaction volume has increased significantly on most chains over the past seven days.The best-performing coins include Solana, Polygon, Thorchain, and Avalanche, among others.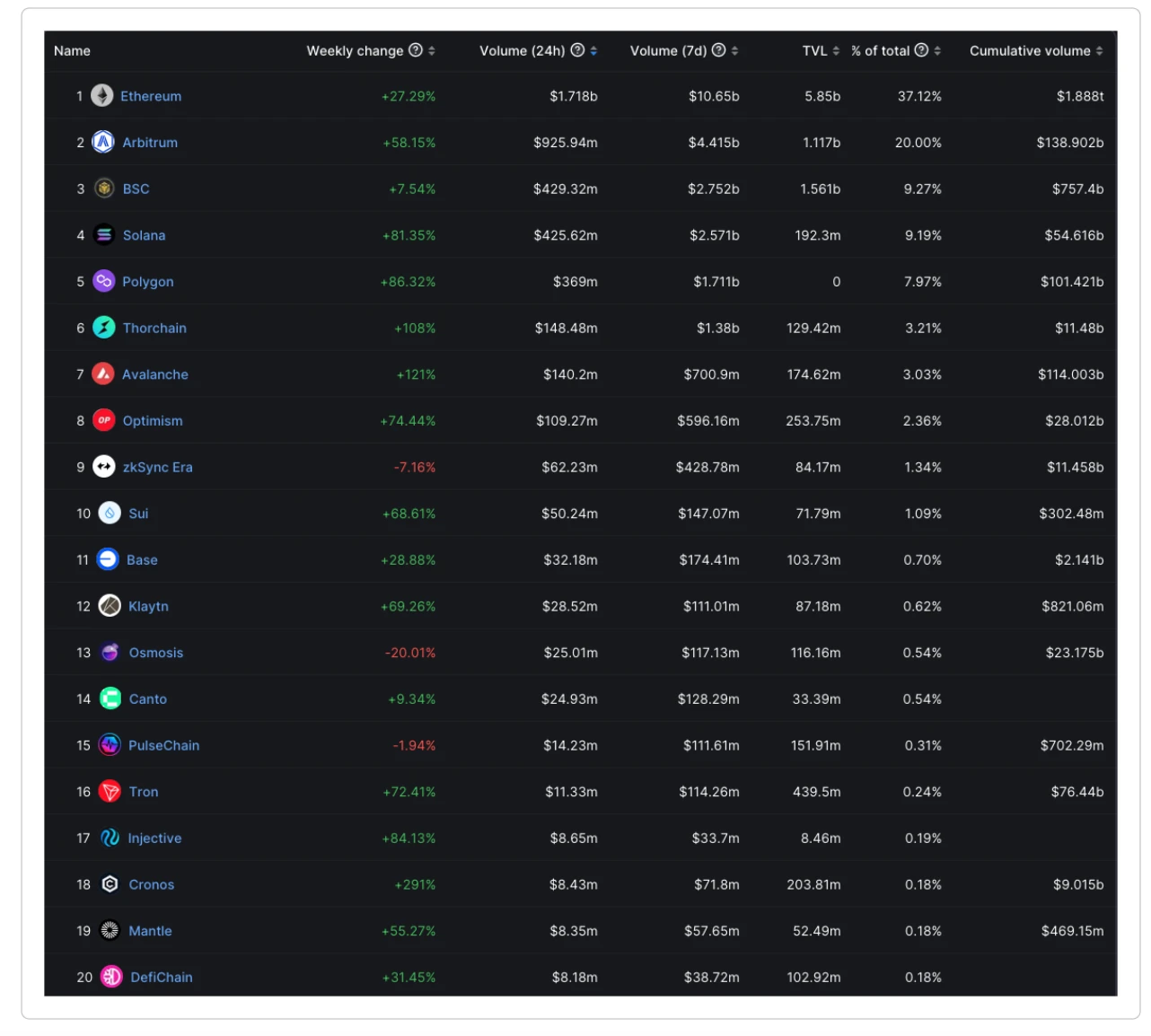 Source: DefiLlama.
All the most popular decentralized exchanges have seen a significant increase in trading volume. Of note are decentralized exchanges such as Solana's native Orca and Raydium. Solana has done well during this market rise.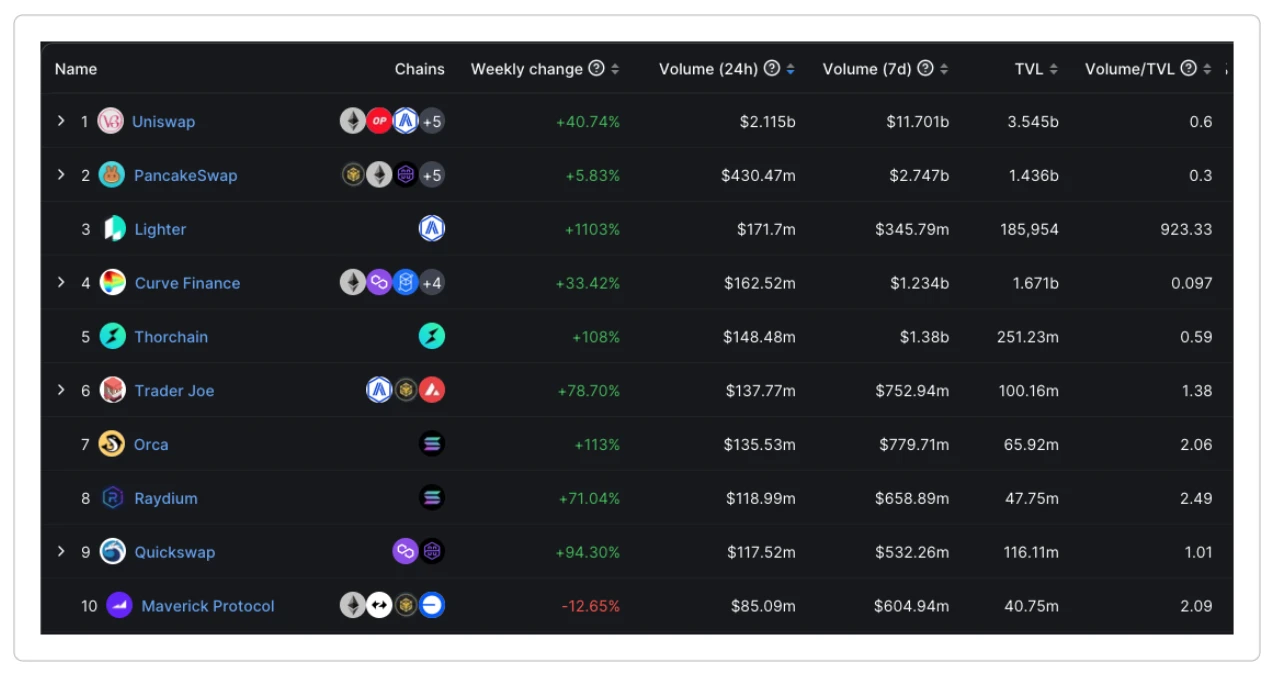 Source: DefiLlama.
DeFi's dominance is rapidly increasing as most on-chain activity and transaction volumes increase.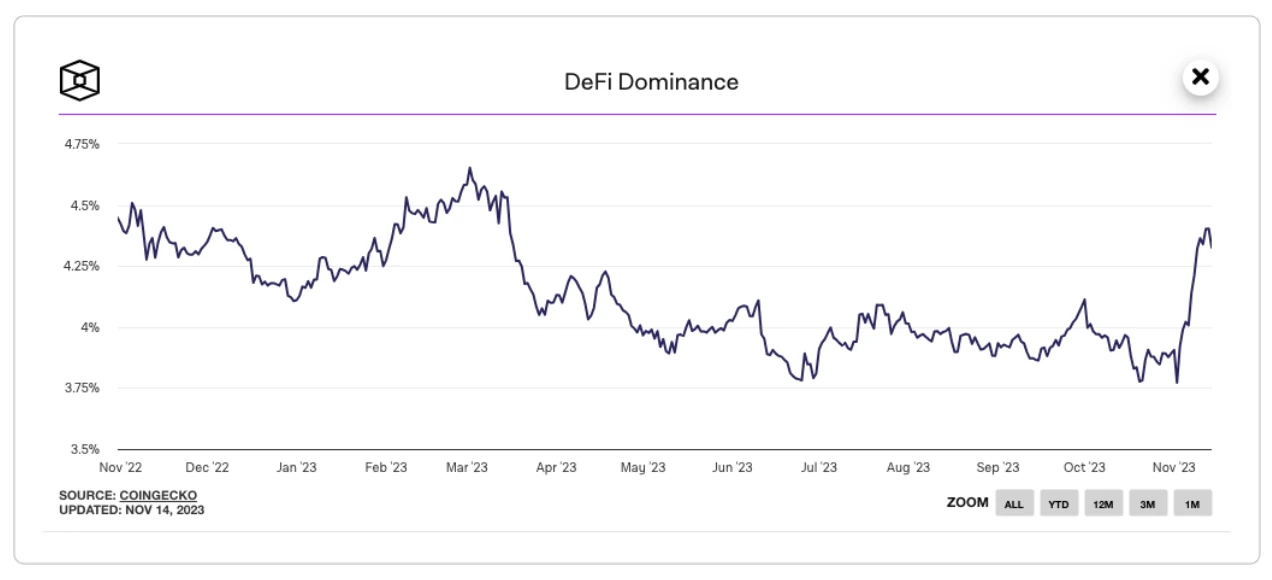 Source: The Block.
Derivatives platforms have seen significant increases in user activity, while many options protocols have unexpectedly experienced user declines, with Aevo, Rysk Finance and Typus Finance being exceptions.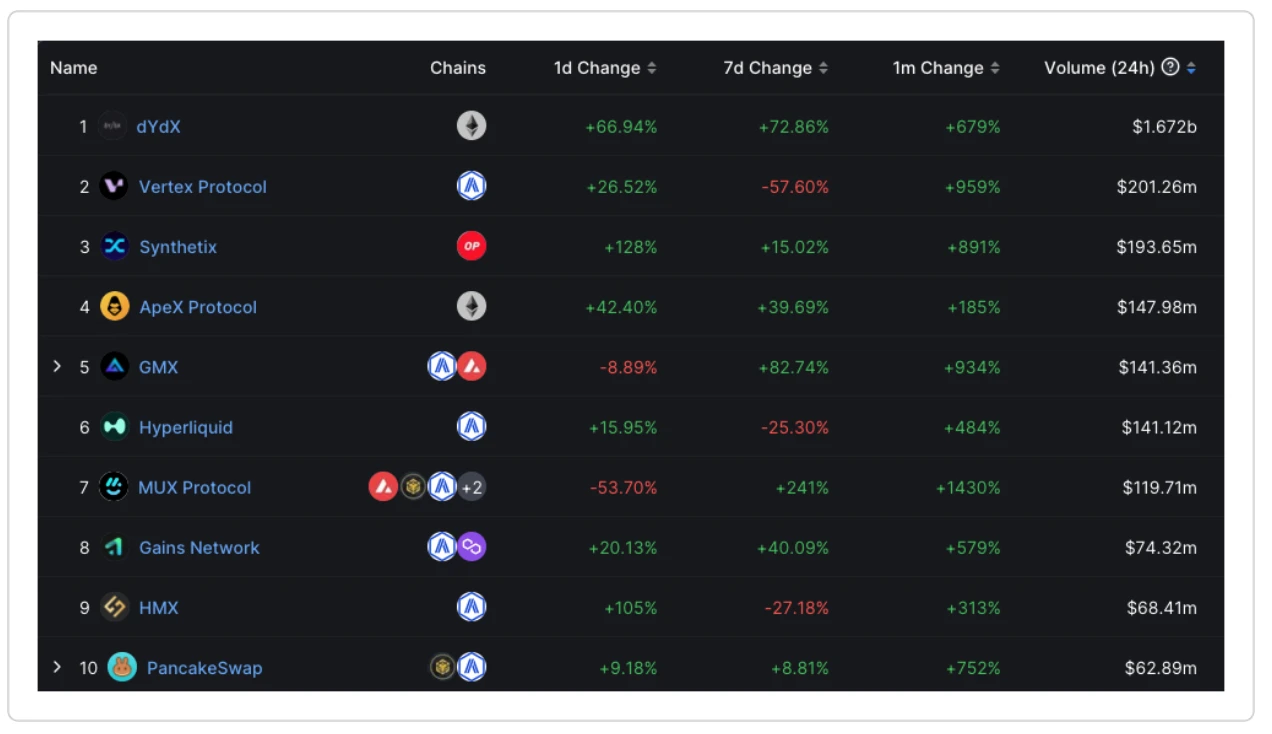 Derivatives Exchange. Source: DefiLlama.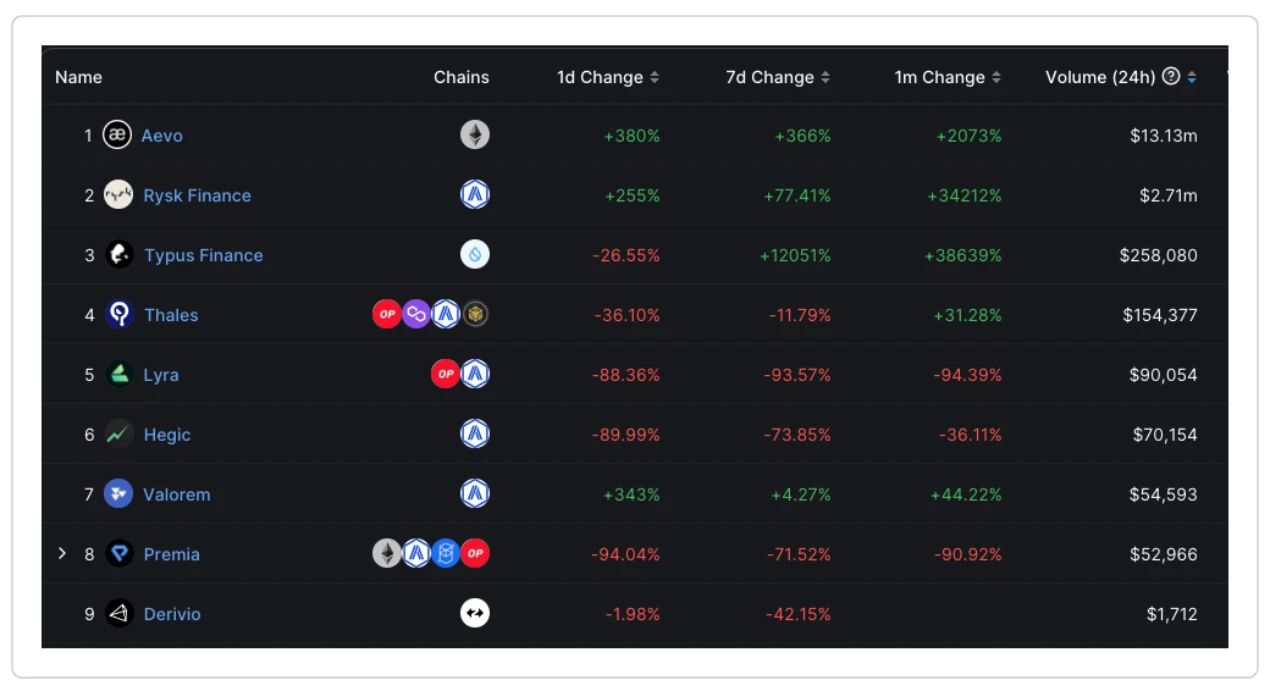 Top options platform. Source: DefiLlama.
The number of developer activities on the entire chain has dropped significantly. This is concerning, but as money flows back into the market, the protocol starts launching new products and grows its team again, this metric may rebound.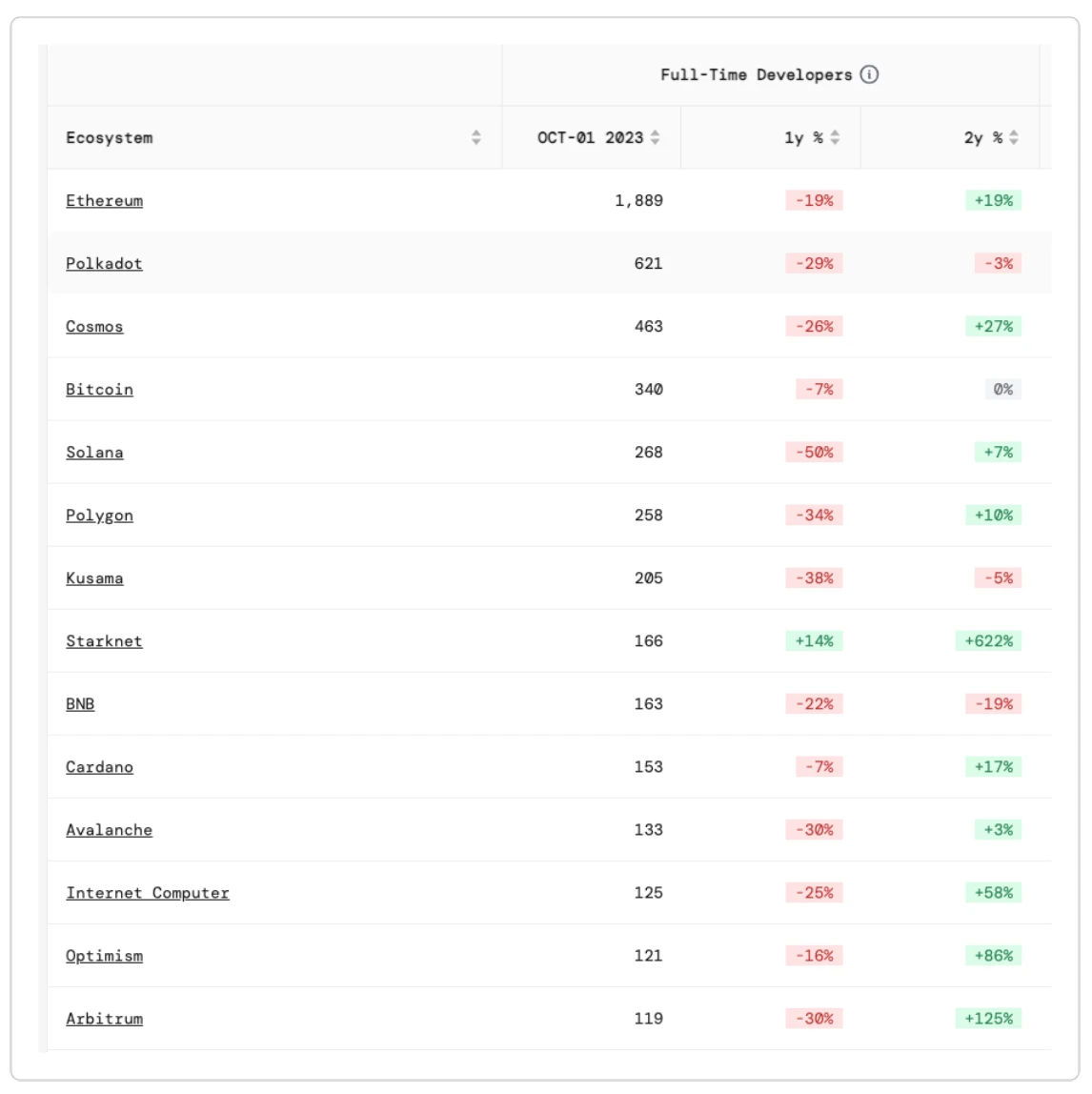 Source: Developer report.
Liquid Stacking continues to dominate the DeFi market, with the entire LST market valued at approximately $26 billion. Most protocols have seen inflows over the past seven days, but have declined slightly after the market cooled off.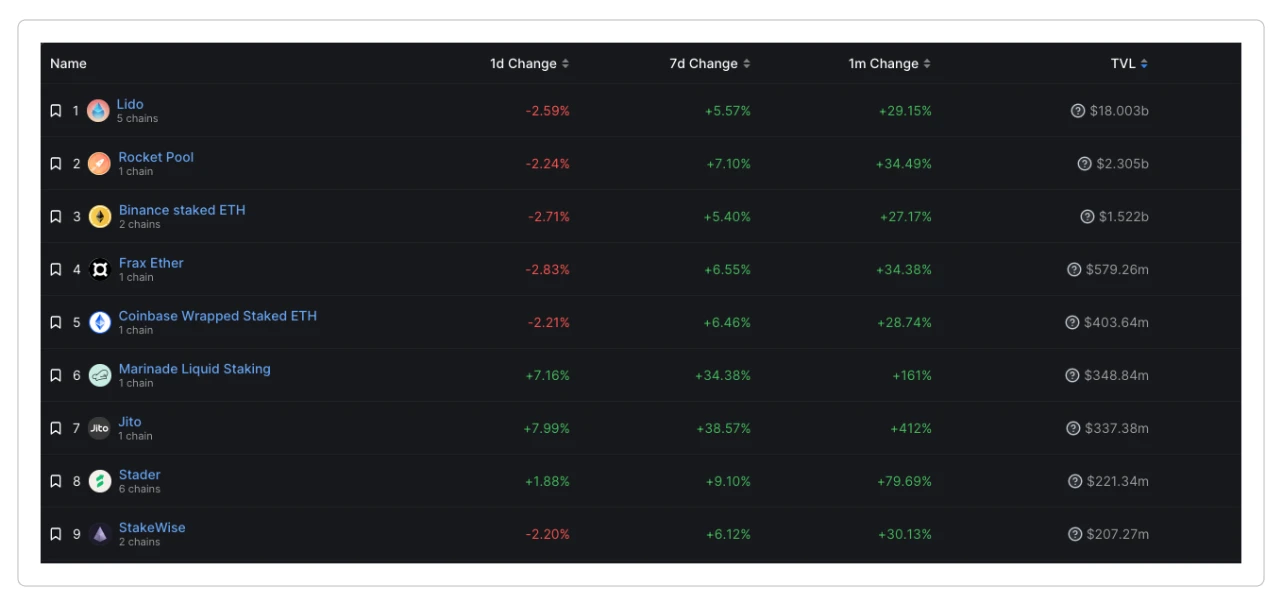 Source: DefiLlama.
Over the past 30 days, there has been an increase in the number of fees generated on the protocol and on-chain. Uniswap has experienced a significant increase since the introduction of fee switching on certain ponds.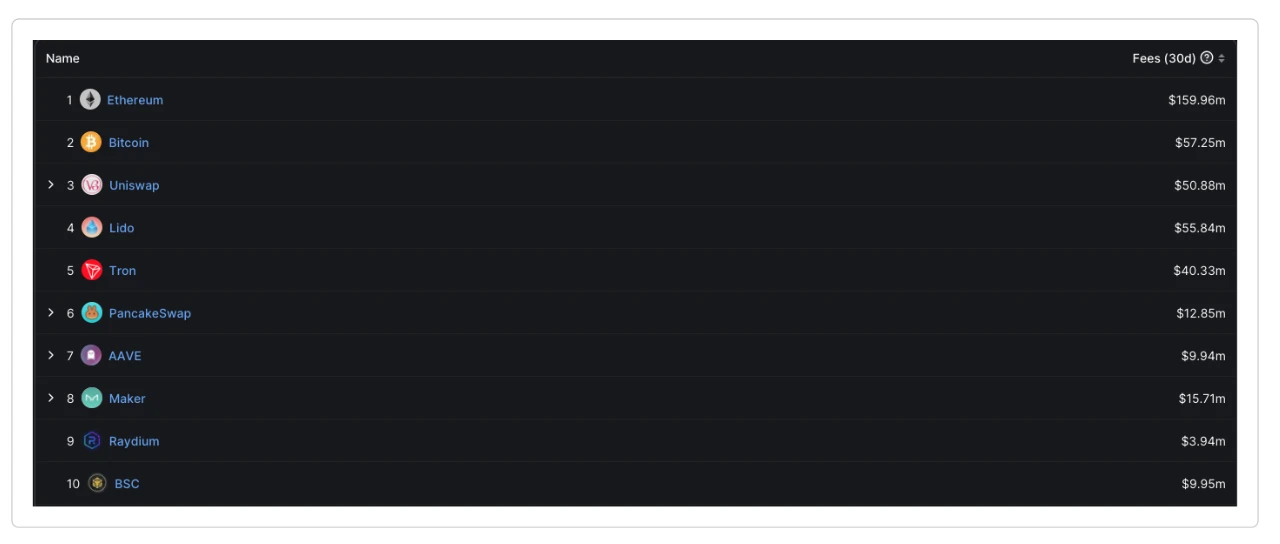 Source: DefiLlama.
All in all, key indicators indicating the overall health of the market are mostly positive,Indicates that the market is growing and generating renewed interest. Currently, this activity appears to be limited to experienced cryptocurrency users with higher risk tolerance, while retail investors have yet to join the market.
The latest developments between Ondo Finance and Axelar are significant in several ways, so this week's focus will be on Ondo Finance.
USDY stablecoin:USDY is a stablecoin backed by short-term U.S. Treasury bonds and bank savings deposits. This stablecoin, which is backed by real-world assets, adds a layer of security and stability to the currency, distinguishing it from other stablecoins that may not have such strong backing.

Cross-chain functionality and security:By partnering with Axelar, Ondo Finance can manage the supply of USDY on different blockchain networks. This is achieved through a "burn and mint" mechanism, ensuring that tokens remain native on each network and mitigating the risks typically associated with encapsulated assets. This functionality is crucial to maintaining the integrity and stability of the token across various platforms.
DeFi, L1 and L2
news media
Bitcoin and Ethereum have seen significant declines in the number of exchange holdings: This development highlights the caution of users about storing assets on these platforms for extended periods of time, which may be a result of recent hacking incidents, especially the FTX crash It becomes more obvious after that.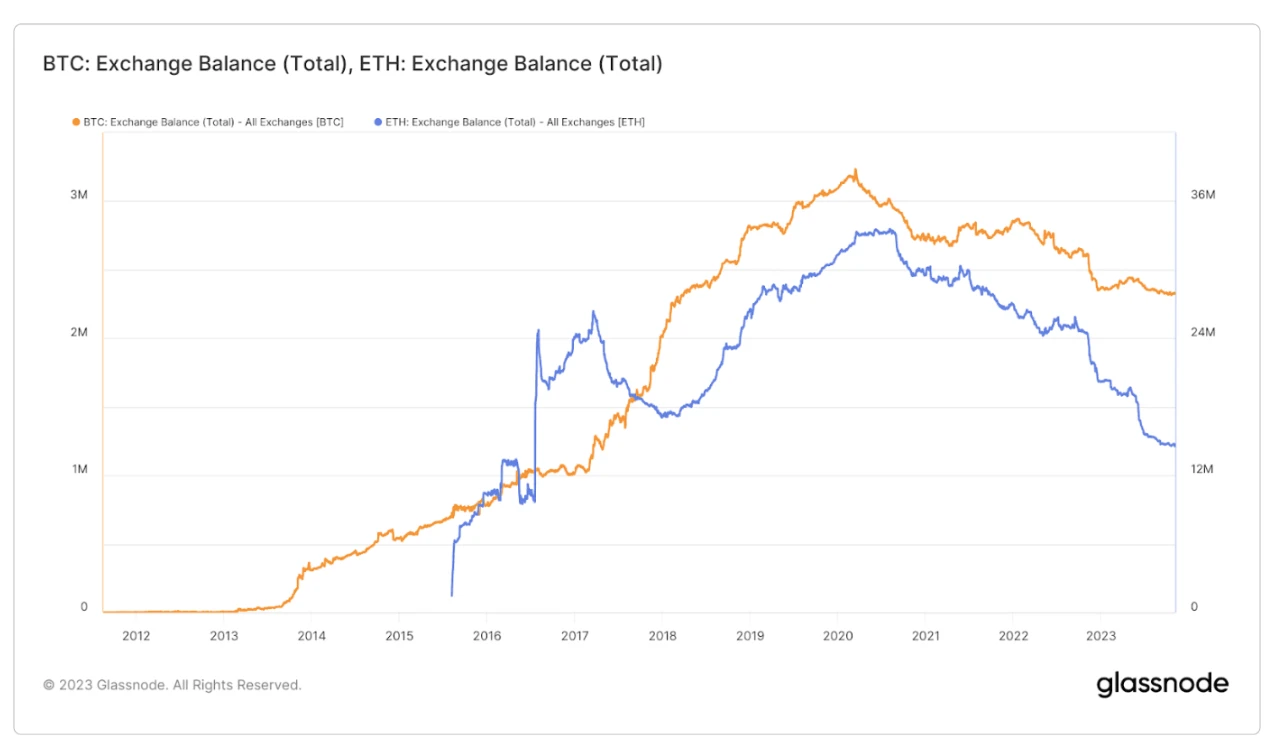 Source: Glassnode
Recent data analysis shows that approximately 70% of the Bitcoin supply has been inactive for a year, reaching an all-time high in depository status. This trend is not limited to a single group but is observed across time periods, with 57% of supply remaining unchanged for two years, 41% for three years, and even 30% for five years.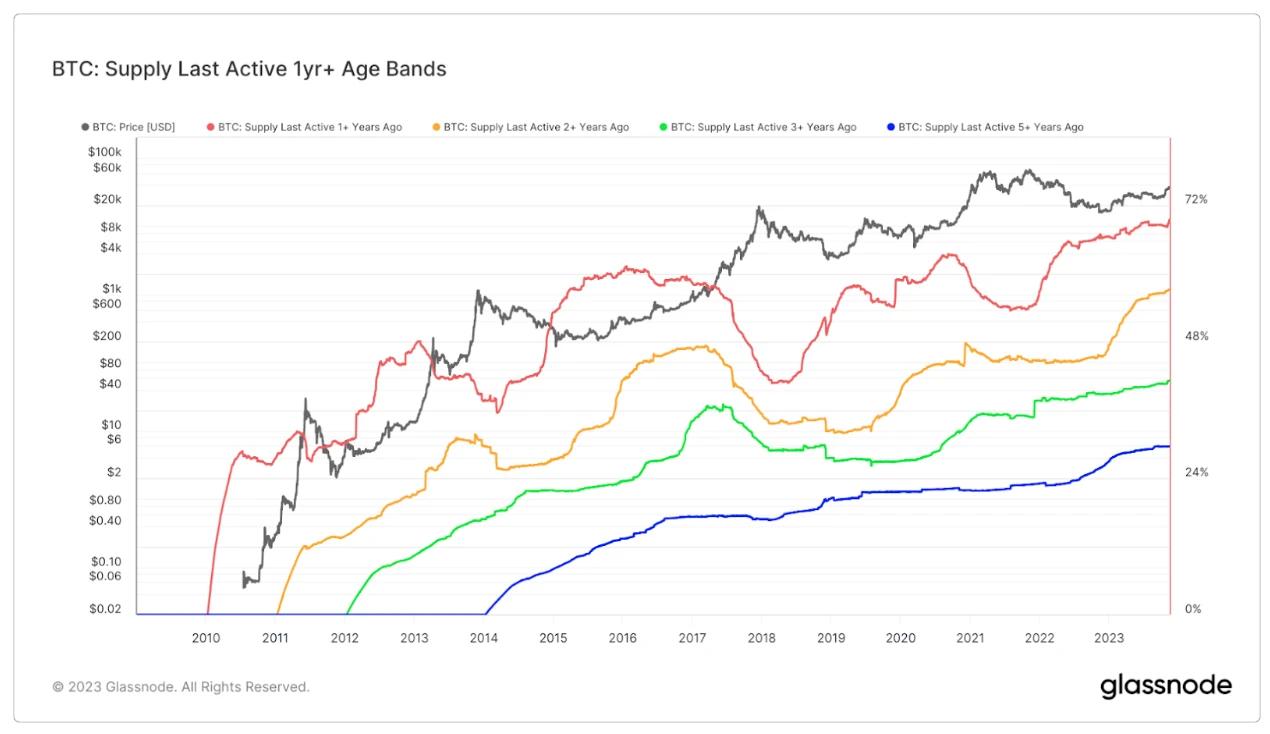 Source: Glassnode
Overview of Blue Chip and Mainstream Coins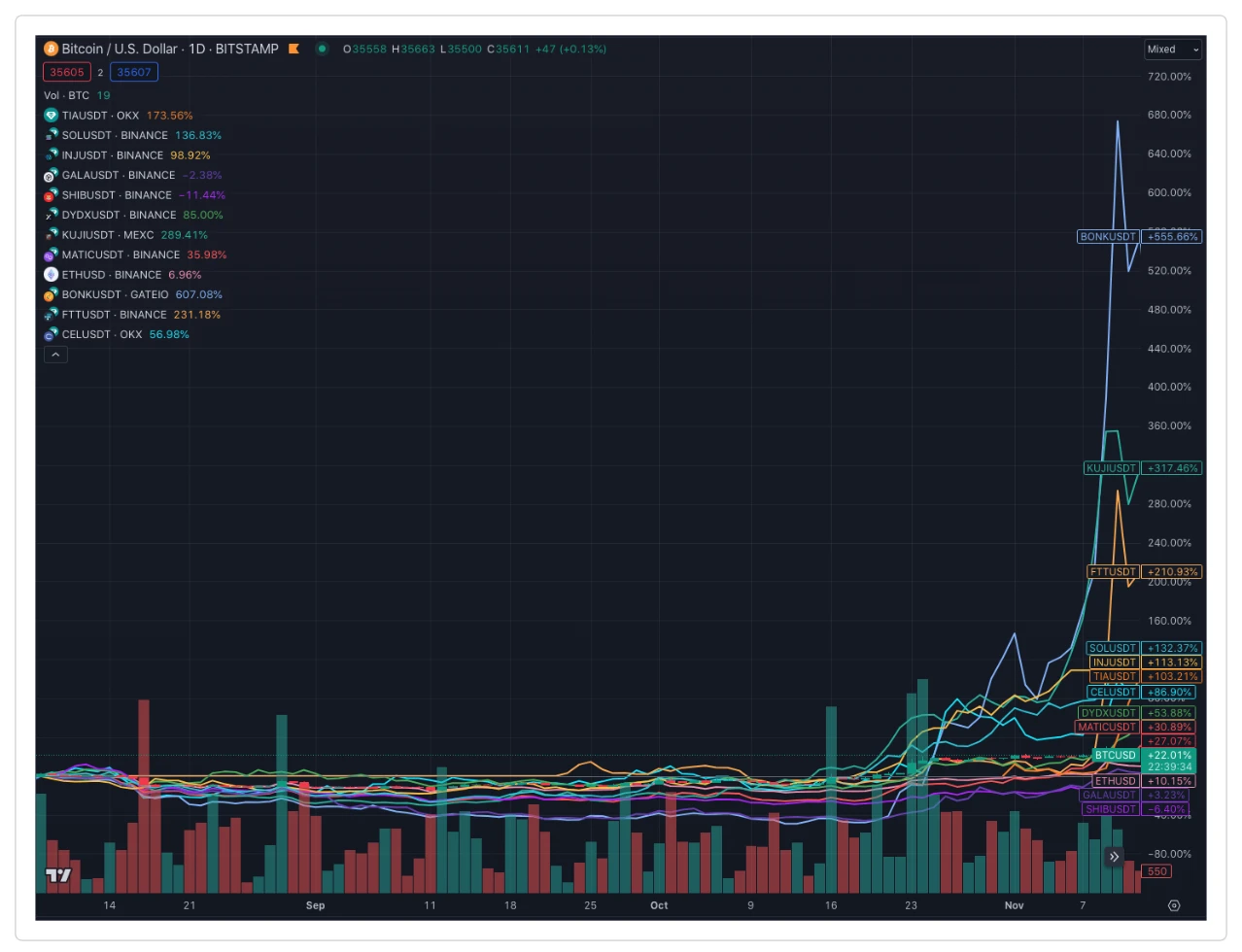 Solana
Solana has exceeded expectations since June, standing out with a stunning return of approximately 312.76%. The Solana ecosystem is performing well across a variety of metrics, especially making significant progress in the gaming and NFT space, as shown in the Mad Lads series. Additionally, Grayscales Solana Trust (GSOL) was trading around 283% above spot SOL prices at one point, although it has pulled back during the recent cooling.
Additionally, the top 10 protocols on Solana experienced significant appreciation, accompanied by a surge in trading volume and liquidity. Two coins to watch are Orca and Marinade, which have appreciated by +348% and 166% respectively.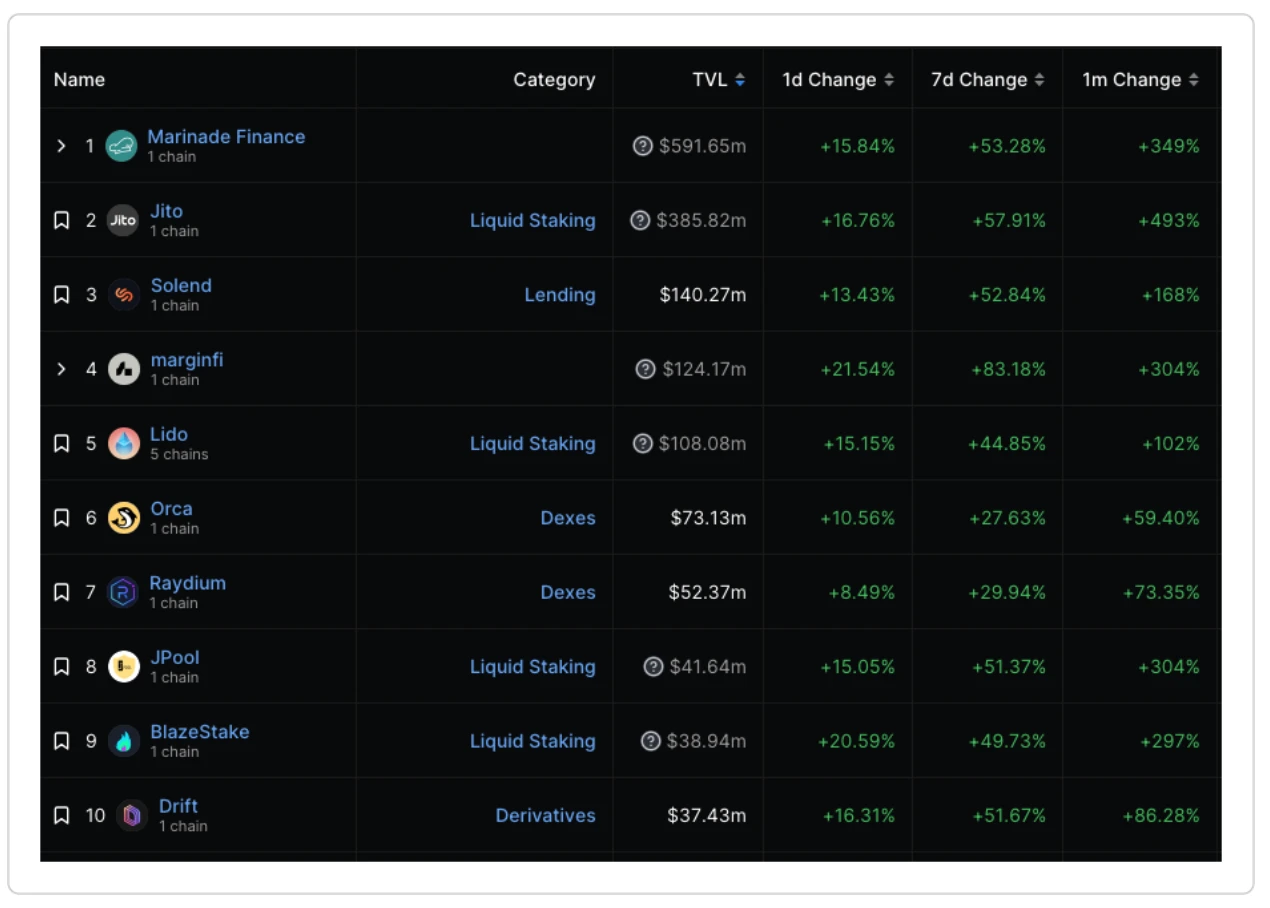 Source: DefiLlama
Celestia has emerged as one of the recent standouts, defying initial expectations. Over the past week, TIA has experienced a significant appreciation of approximately 152%, despite a dull period following the airdrop, with its price fluctuating within a narrow range for some time. Many predict that the coin will continue to hit new highs in the upcoming bull cycle, with a strong chance of claiming a spot in the top 50 or even the top 20 cryptocurrencies.
CEL, the native utility cryptocurrency of the now-defunct Celsius Network, has surged 128% in the past 30 days to reach levels not seen since April.

CEL, the native utility cryptocurrency of the now-defunct Celsius Network, has surged 128% in the past 30 days to reach levels not seen since April.

LUNA recently jumped 35% overnight and is on track to re-enter the top 100 cryptocurrencies by market capitalization.

HEX has grown over 160% in the past month. Notably, HEX founder Richard Heart is facing securities fraud charges from the SEC.

Shiba Inu is up 10% over the past week, showing significant growth since October.

Dydxs recent performance has been nothing short of spectacular. It briefly hit a high of nearly 2x with the launch of version 4.

FTT stood out as one of the week's performers, surging 240% in value, driven by news about a potential relaunch of FTX. Although the feasibility of this option remains uncertain, users are taking the plunge.

Matic has increased in value by approximately 86% since October, with activity in the ecosystem increasing significantly, particularly on the gaming side.
Degen Corner
Useful testnets and betas that users can check out includeFantom Sonic Open Testnet,、ibMEV betabeta andSynonym Testnet

Since October, $BONK has gained nearly 2000% in value.

After a project created by a scam-related account got negative press from ZachXBT, smart money made a move after a round of declines.GROKA major investment in other tokens.

Newly listedSTARBASEAttracted $64,000 in smart money investment, but only retained 16% of investors.

Notable new listings includePossum, DogeaandMubi, each project received over $220,000 in smart money investment, with Possum providing upfront earnings on LST and Mubi acting as a bridge project.

Newly listedAI.comAttracted $72,000 in smart money interest but sold off most of the position.
NFTs and games
news media

NFT-related websites have experienced a decline in traffic over the past 30 days. Only Magic Eden and Top Shot experienced an increase in transaction volume.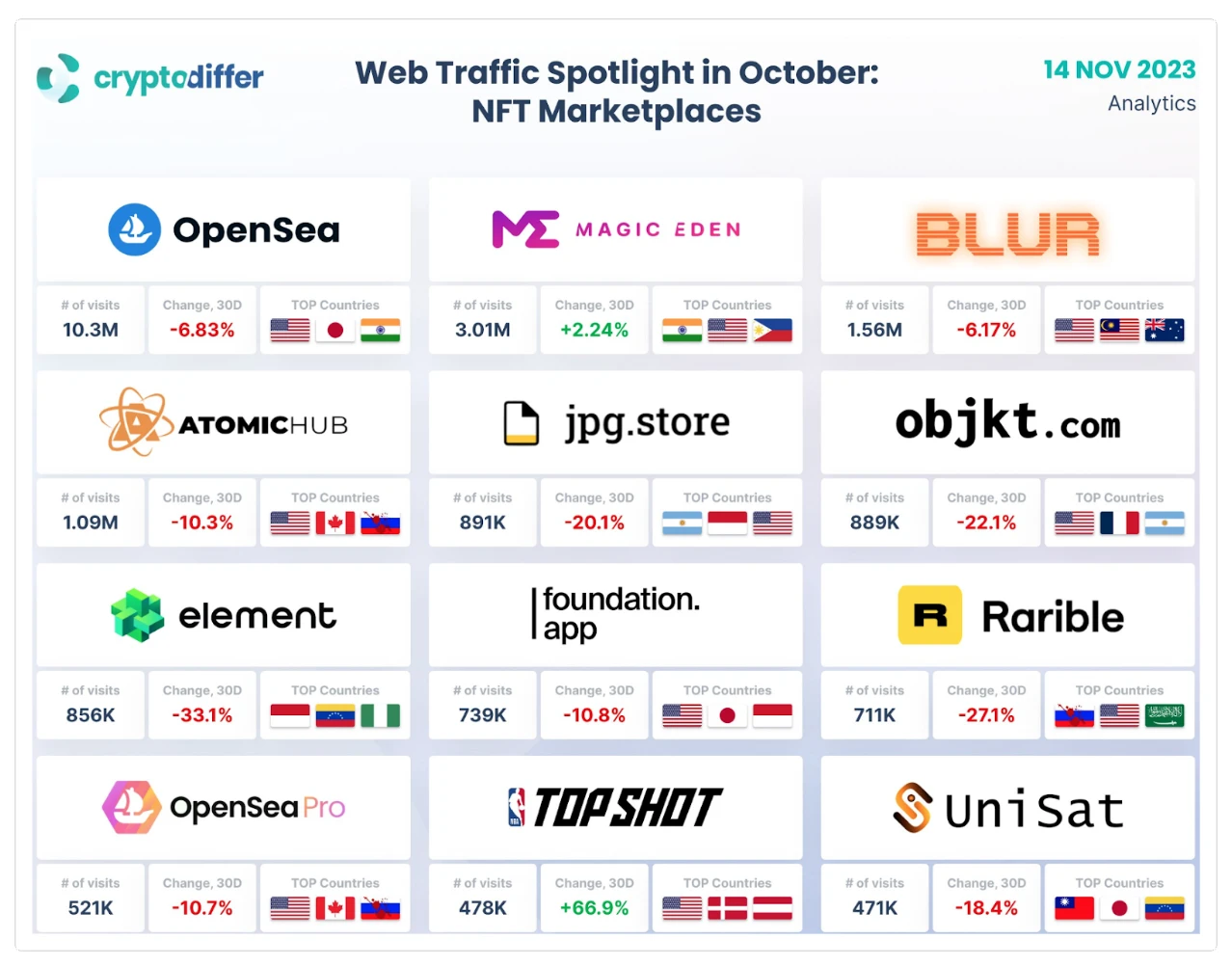 Source: Cryptodiffer.
Blue Chip Stock Review
Traditional NFTIt has been rising steadily, echoing the overall markets upward trend. Unexpectedly, Mad Lads overtook Bored Ape Yacht Club in terms of volume, losing its top position in terms of volume.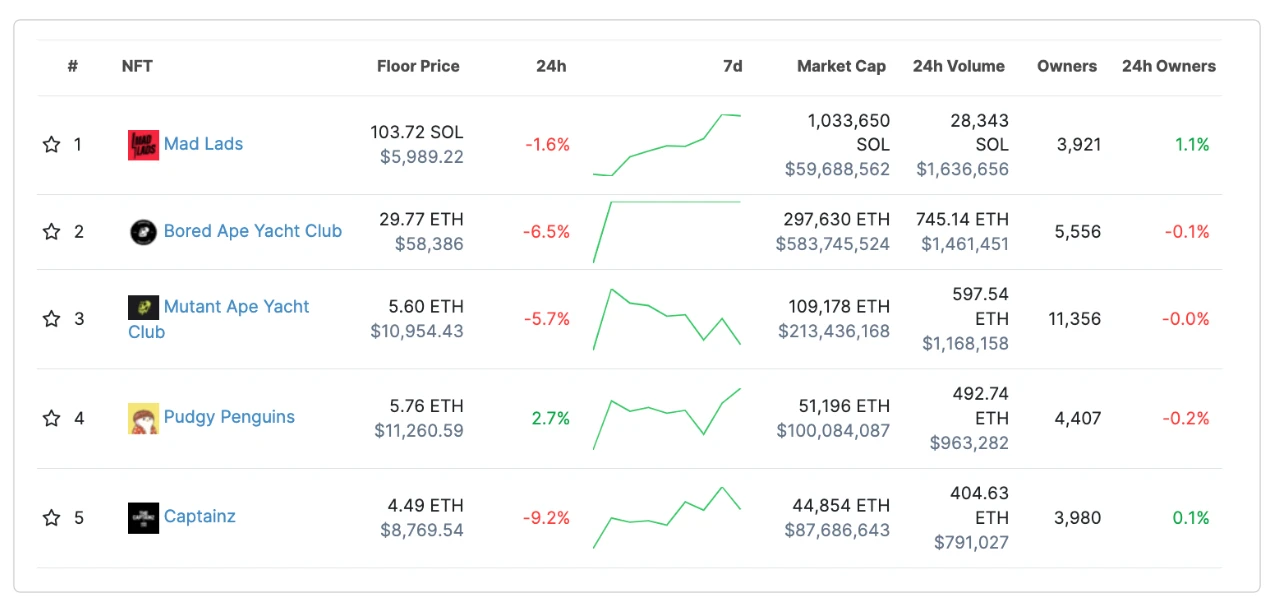 Source: Coingecko.
Ethereum maintains its dominance in transaction volume, and it is worth mentioning the significant increase in Bitcoin transaction volume. The growing trend of NFTs on the Bitcoin network appears to be a long-lasting and important development.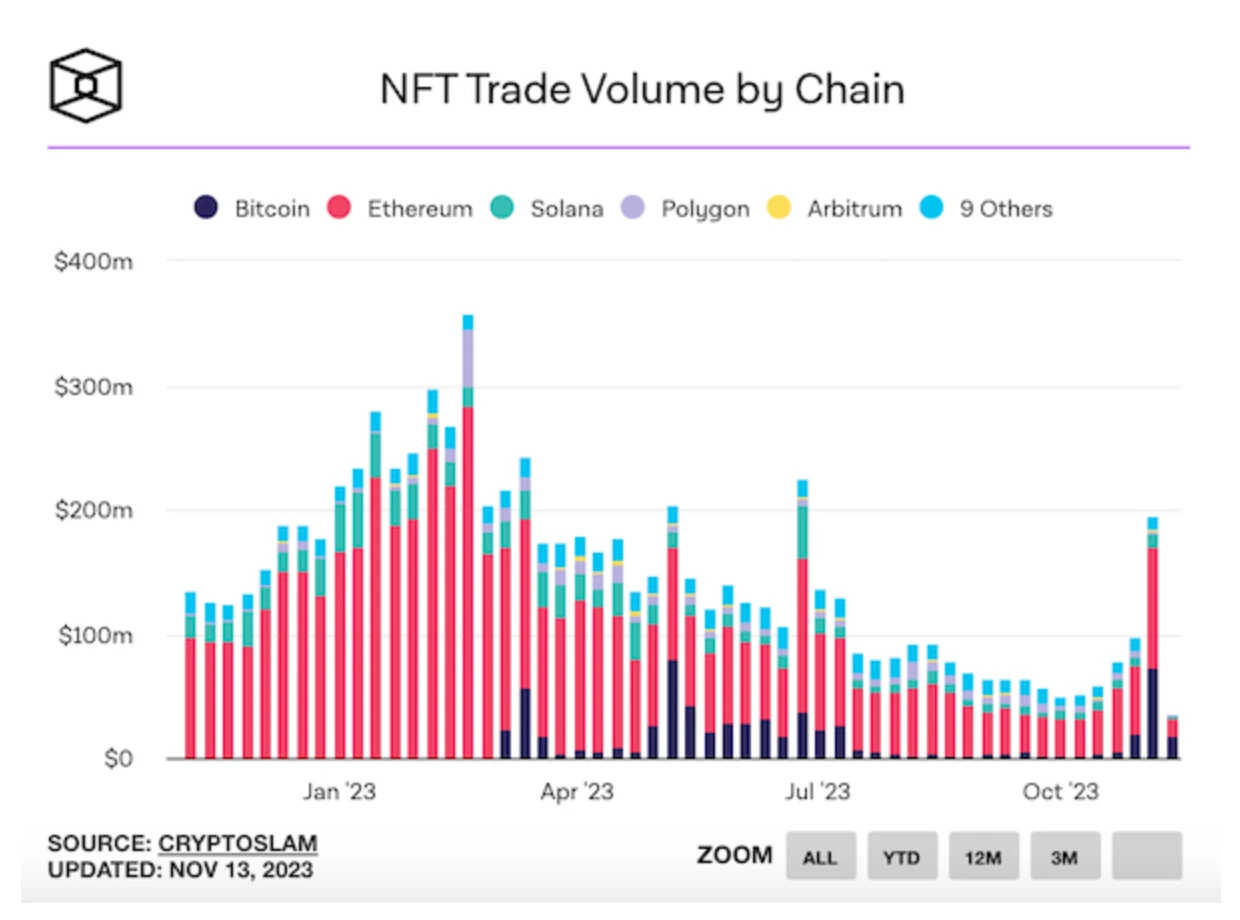 Source: The Block.
Alien Worlds, an NFT metaverse game, has gained users on the WAX ​​blockchain. It's worth mentioning that this engaging game also offers functionality on other blockchain networks, including Ethereum and the BNB Smart Chain.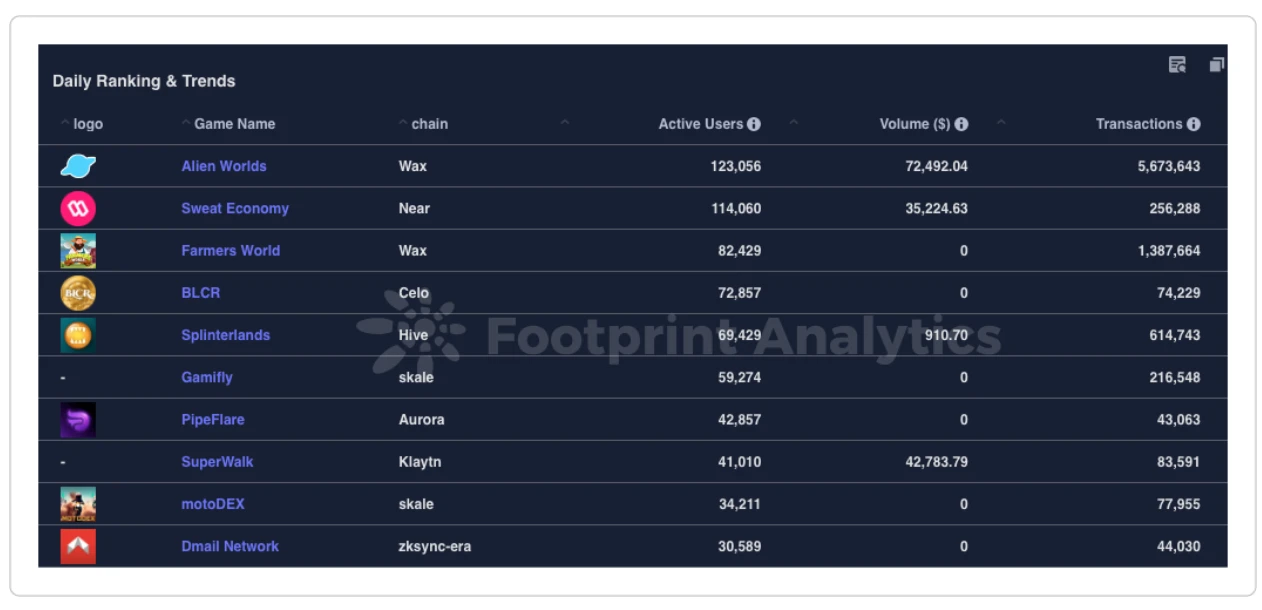 Top NFT games source: Footprints.
Degen Corner
GenopetsA major update has rolled out, adding a new racing mini-game, an in-app store, and enhanced meal and toy options.

PixelmonThere is exciting news to share as they have announced a strategic partnership with Horizen Labs Venture, the same company that successfully launched ApeCoin. For NFT owners, this partnership could lead to exciting benefits and opportunities in the future.

CryptoSlamLaunched an innovative NFT-related solution called SlamAI, providing users with access to their massive web3 data repository.

Splinterlandshas announced the official release date for its land-based game in update 1.5. While this is just the beginning of their wider plans, landowners will have the opportunity to stake cards on their plots, allowing them to harvest grain, SPS tokens, and research points.

is streamlining its login process, adopting Immutable Passport in late November/early December. Players will need to use this new login method, which simplifies the login process and eliminates the need for passwords or reCAPTCHA.hereRegister for a pass.

The gaming sector continues to heat up this week, showcasing the likes of ILV (+36%), IMX (+45%), PRIME (+48%), RON (+30%), and MC (currently migrating to BEAM, up +80 % ) and other tokens' impressive performance.

NFTFi,is a platform for NFT lending on Ethereum that has experienced significant growth, claiming that its total volume locked (TVL) increased by 103.14%.