Javier Milei, the presidential candidate who once threatened to blow up his countrys central bank, was officially elected as Argentinas president today. Argentines have chosen another path. Javier Mileis opponent Massa lost the election and reluctantly announced that he would retire from frontline politics.
In the second round of the election on November 19, Javier Milei received 55.7% of the vote, while Massa received 44.2%. After defeating this last opponent, Javier Milei will be inaugurated as president on December 10. Today, Argentinas reconstruction begins. This is a historic night for Argentina, Javier Milei told jubilant supporters at his campaign headquarters in Buenos Aires.

During the campaign, Javier Mileis campaign vows repeatedly included abolishing the central bank and the peso and using the U.S. dollar as legal tender to overcome the inflationary catastrophe facing Argentina, which has plunged 40% of Argentinas 45 million citizens into poverty and pushed the currency out of the country. The expansion rate is pushed to over 140%.
In his scenario, Bitcoin will also become the mainstay as a remedy for Argentina's inflation after closing the country's central bank. Prior to his presidential campaign, Javier Milei appeared on several talk shows, often touting the benefits of Bitcoin and cryptocurrencies. Bitcoin can eliminate central banks, Javier Milei said.
Or due to the election of Javier Milei, Bitcoin rose above $37,000 and is now quoted at $37,356, a 24-hour increase of 2.3%.
austrian argentine president
I know how to kill the cancer of inflation, Javier Milei declared during the last presidential debate last Sunday.
According to Javier Milei, the establishment of the Central Bank in 1935 was the beginning of all Argentinas problems. Without a central bank, Argentina was the richest country in the world, with inflation averaging just 0.9% per year from 1880 to 1935. The establishment of the Central Bank in 1935 fooled the entire population: inflation jumped to an average of 6% per year. The central bank was nationalized in 1946, and by 1991 inflation averaged 250% per year. It was a complete disaster.
Javier Milei, a former economist and economic analyst, supports the economic thought of the Austrian school and is a staunch supporter of laissez-faire capitalism. He calls himself a short-term anarchist and a long-term anarcho-capitalist.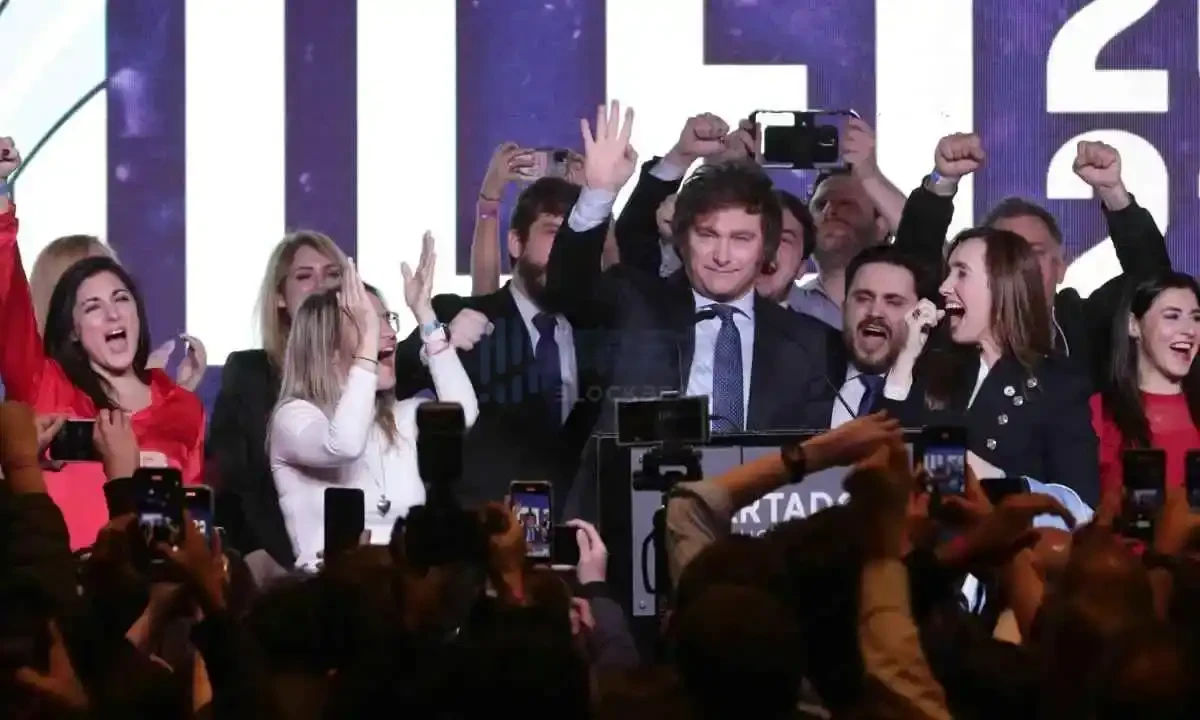 In the field of blockchain, Austrian school is not an unfamiliar concept. The founder of the Austrian School believed that money is not an invention of the state. Currently a must-read for Austrians in the circle, Hayeks Denationalization of Currency also very clearly states that the government and the monetary system must be completely separated. The books ideas were considered shocking in 1974, but the emergence of Bitcoin in 2009 made it seem less crazy and even became a great prophecy. Many people even believe that it was this book that helped inspire Satoshi Nakamoto, who is most likely an Austrian-based liberal.
Xiong Yue is one of the early Bitcoin evangelists in China and a senior Austrian economics researcher. He is very concerned about the election of Javier Milei: In fact, he is my senior brother. Just go to YouTube and search for Mileiy Huerta de Soto. Yes, Javier Milei was greatly influenced by De Soto, and he also wrote an article in the anthology commemorating De Soto, which is very Austrian."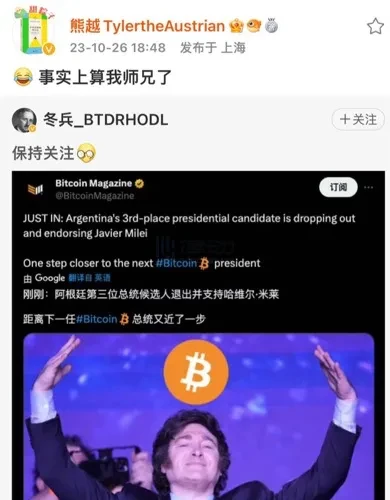 Argentines have chosen a new path
Due to the current situation, we are temporarily unable to display prices on the shelves. Please inquire at the checkout for prices. All cash promotions are suspended until further notice. Thank you for your understanding. This is a notice posted outside a small market in Argentina. Reflecting the chaos in Argentina's economy in recent years.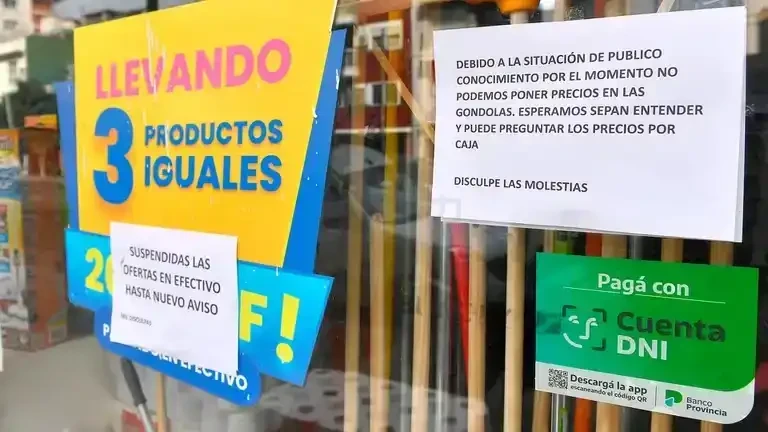 Nathan is a journalist who experienced this firsthand when he came to the Argentine capital after 10 years in early April this year. Like everyone, the first thing Nathan did when he landed was exchange currency, but exchange rates vary greatly in this place depending on how and where you get your pesos.
The official exchange rate is 220 pesos per U.S. dollar. I went to several Western Union offices to exchange money, but was told that there was no cash. After being pointed out by a local friend, Nathan found the cuevas or black market on a certain street. , the exchange rate here is close to 400 pesos.
But Nathan faced a second big problem, because the current largest denomination banknote is 1,000 pesos, which is worth less than 2.04 US dollars. After the exchange, there are huge piles of banknotes in his wallet and pockets, and he is carrying a full backpack. The amount of pesos used for outings and daily consumption are extremely ostentatious and frightening.
It's hard to imagine that this was Argentina, which ranked among the top ten in the world in terms of economic aggregate at the beginning of the 20th century. In recent years, affected by factors such as the international economic and financial situation and the epidemic situation, Argentinas economic growth has not only slowed down significantly, but the inflation rate has also reached 100%. The value of the peso has depreciated again and again. It can be said that this years global The weakest currency. Bank of America pessimistically predicts that the official exchange rate of the peso will fall to 545 by the end of this year and to 1193 by the end of next year.
Therefore, with the countrys economy in a complicated situation, Argentinas general election is considered by many to be the best solution to drastically change the Argentine economy. Javier Mileis unconventional stance resonates with many, especially younger voters who are internet and technology savvy.
Bitcoin Argentina spokesperson Zocaro believes that the use of cryptocurrency in Argentina has been growing since around 2020, and many people have begun to buy Bitcoin and stablecoins. To send funds to family and friends abroad, or to buy goods from abroad, with all the international restrictions, more and more people are starting to use cryptocurrencies because it's great to take out the door to buy bacon in the morning and may only be able to buy it by the evening. For Argentines who can afford bread, cryptocurrencies are a way to protect value.
Unlike the mysterious "cuevas," Zocaro said, "Cryptocurrencies are completely legal in Argentina. People have also begun to notice the inflation of the U.S. dollar and regard Bitcoin as a possible alternative. Most young Argentines prefer Bitcoin, Ethereum and stablecoins. Some provinces such as Mendoza have taken steps to allow people to pay taxes with cryptocurrencies."
According to a survey conducted by Americas Market Intelligence in April 2022, nearly 51% of Argentinian consumers purchased it. This is up from only about 12% in a similar survey conducted in late 2021. The survey also found that up to 27% of Argentinian consumers regularly purchase cryptocurrencies, with the main reasons for purchasing including investment, protection against inflation and avoidance of government control.
While many older Argentines still prefer to hold USD cash, more and more young people and residents are beginning to prefer USD stablecoins. They dont need to handle cash and can complete transactions through their mobile phones, said a platform that provides cryptocurrency trading for users in Argentina, where two-thirds of users are under the age of 35.
Javier Mileis remarks about introducing the U.S. dollar as the countrys official currency were applauded by supporters, with many economists talking about Argentinas financial disaster.
Regardless, in a country where annual inflation exceeds 140% and two-fifths of the population lives in poverty, Javier Mileis victory proves that Argentines are tired of traditional political and economic disasters and are willing to try new things. A new path was chosen.