Solana (SOL) has recently experienced a round of rising prices, and the price has remained strong to this day. With the launch of the new trading platform Backpack Exchange built by the former FTX team, and the increase in airdrop projects in the Solana ecosystem, the meme currency sector of the Solana ecosystem has also received a lot of liquidity attention. .
Once rescued Solana from fire and water
The crypto trading platform Backpack Exchange announced that it will list Pyth Network (PYTH) and also launched a PYTH pledge airdrop activity. By staking 5 SOL tokens on Backpack Exchange for at least 24 hours, users holding Mad Lad can trade on Backpack Exchange. Active users will receive PYTH tokens based on their transaction volume, which further increases the popularity of the Solana ecosystem.
Before the PYTH airdrop, Backpack had already launched the SOL/USDC trading pair, and its trading volume reached US$2.1 billion as of writing.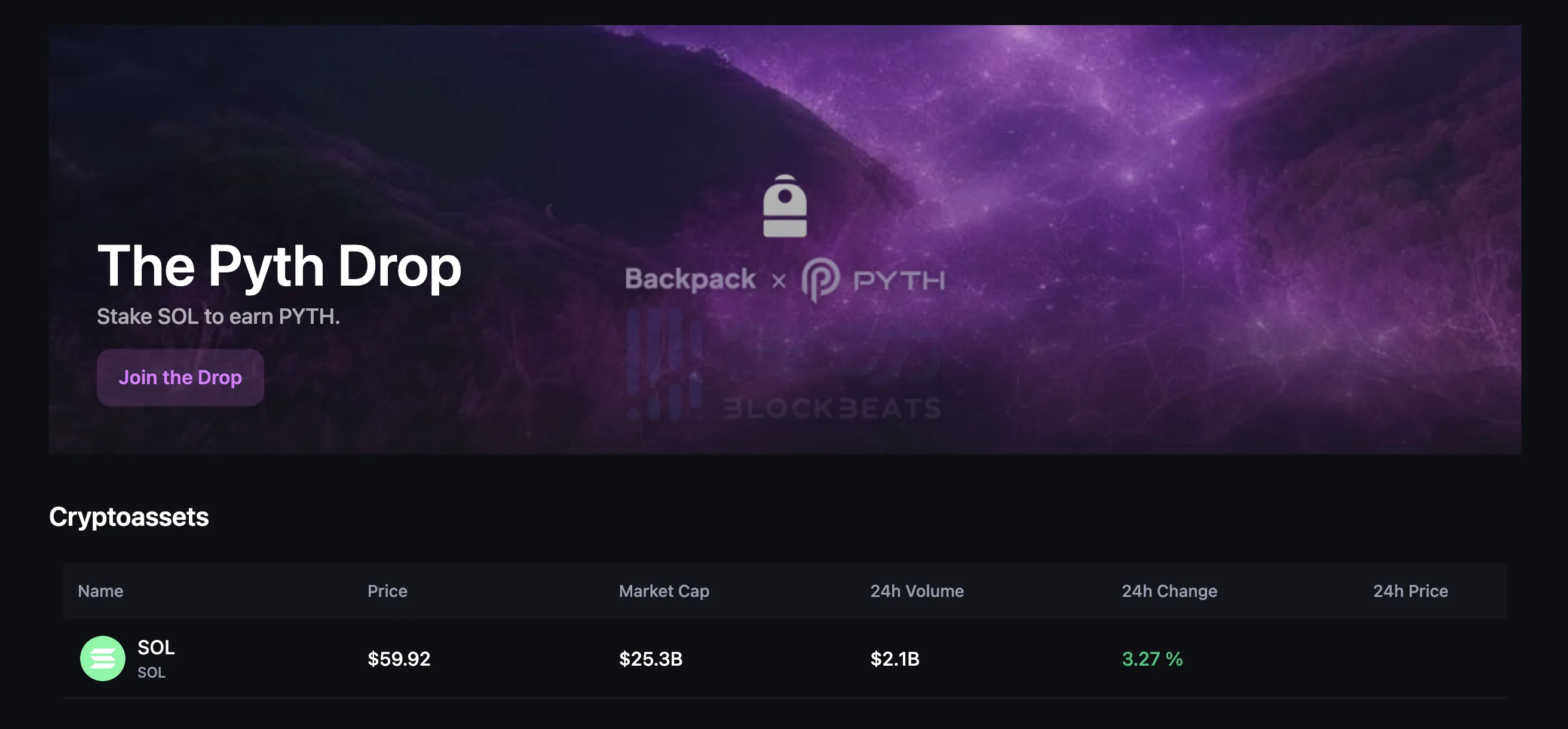 Backpack homepage information; Image source: Backpack Exchange
In addition, on November 16, Jupiter Exchange, the Solana ecological transaction aggregator, announced the details of the JUP community airdrop. Among them, the total amount of JUP is 10 billion, 40% will be distributed to the community through 4 rounds of airdrops, and 10% (1 billion) will be allocated in this round. coins), 955,000 wallets that interacted directly with Jupiter before November 2 are eligible for the airdrop. There will be follow-up airdrops for new users, and the team expects to begin another round of growth-oriented airdrops before the token launch.
The hot launch of Backpack Exchange and the favorable airdrop of Jupiter have brought a new wave of attention and liquidity to the meme project in the Solana ecosystem.
Earlier today, according to CoinGecko market information, the Solana ecological meme token BONK has increased by 54.1% in the past 24 hours. As of press time, the price was US$0.00000473, a record high. As the price of BONK keeps rising, community users can't help but ask, "What will happen to Bonk when liquidity flows out of Pyth?"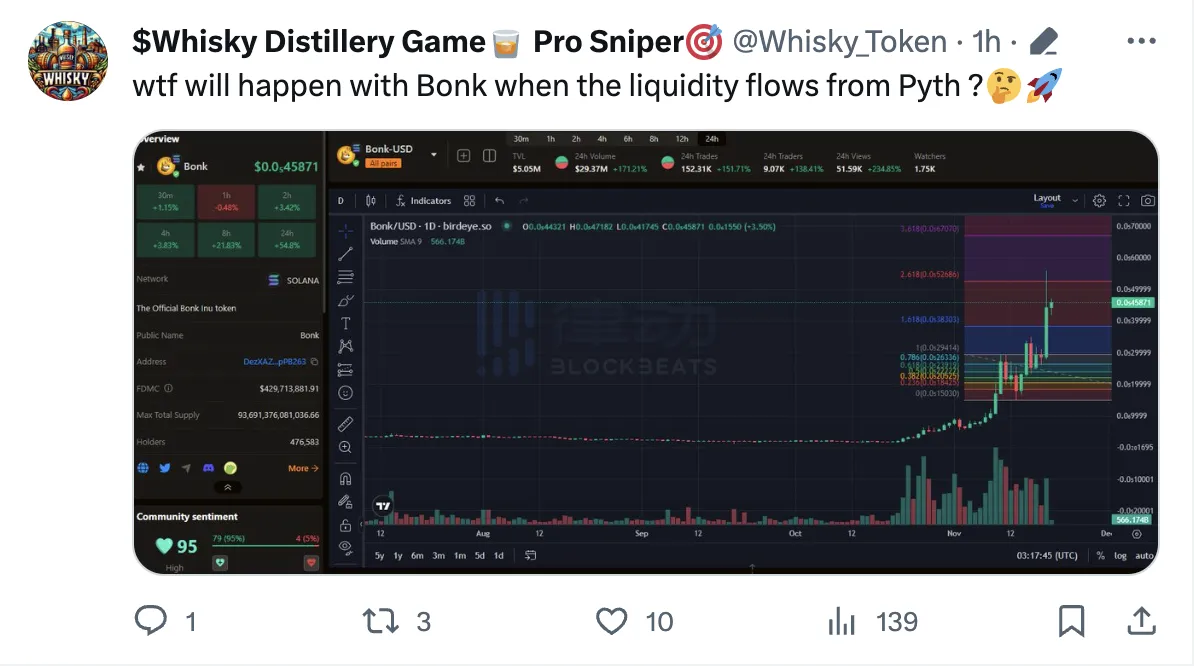 BONK is the first meme coin on Solana. Some users who did not participate in the last round of crypto market may still be unfamiliar with this name. The Bonk team began planning the project on December 9, 2022, and called on other projects in the Solana ecosystem to interact. As Christmas approaches on December 25, Bonk conducted a large-scale airdrop for the Solana ecosystem.
According to the official statement of the Bonk team, the purpose of its deployment is to oppose Alameda token economics. Those tokens with low circulation and high FDV make it easier for them to manipulate prices, which not only disrupts the market, but also causes heavy losses to most investors. We know that Solana was severely affected after the FTX thunder incident. The price of SOL currency plummeted, falling below $10 at the lowest. It experienced a severe liquidity crunch, and its ecological projects also fled one after another.
The emergence of Bonk is to maintain the confidence of Solana ecology and SOL holders, so it airdrops 50% of the tokens to NFT holders and developers on Solana to arouse the enthusiasm of Solana supporters.
The price of SOL did gain a new life when BONK sentiment was high. At that time, in addition to the increase in SOL price, other projects in the Solana ecosystem also became active due to participation in Bonk airdrops and integrations. It can be said that Solana was saved from fire and water. middle.
It is almost one year since the birth of BONK, and it is now active again. Community users compared it with SHIB and also speculated that BONK might be launched on mainstream trading platforms.

Can new firewood ignite old fires? The BONK team is working hard to answer this question.
Meme carnival on Solana
In addition to BONK gaining enough attention, other meme coins on Solana have also taken advantage of this popularity to spread in the community. Since November, multiple meme coins have landed in the Solana ecosystem.
MYRO
MYROs Twitter profile is Solana founders dog, and the meme culture comes to mind. MYRO is based on the founder of Solana@rajgokalNamed after a pet. The MYRO team said it wants to bring more appeal to Solana through memes and increase the on-chain transaction volume of DEX, NFT and tokens. They also donated $5,000 to the nonprofit Dogs for Better Lives.
Many people believe that MYRO is the second largest meme coin on the Solana chain, and say that if BONK is like DOGE, then MYRO is SHIB. The rising price of BONK has also caused the price of MYRO to rise. According to Dex Screener data, the increase has reached 92.8% in the past 24 hours, and the price as of press time was US$0.01854169.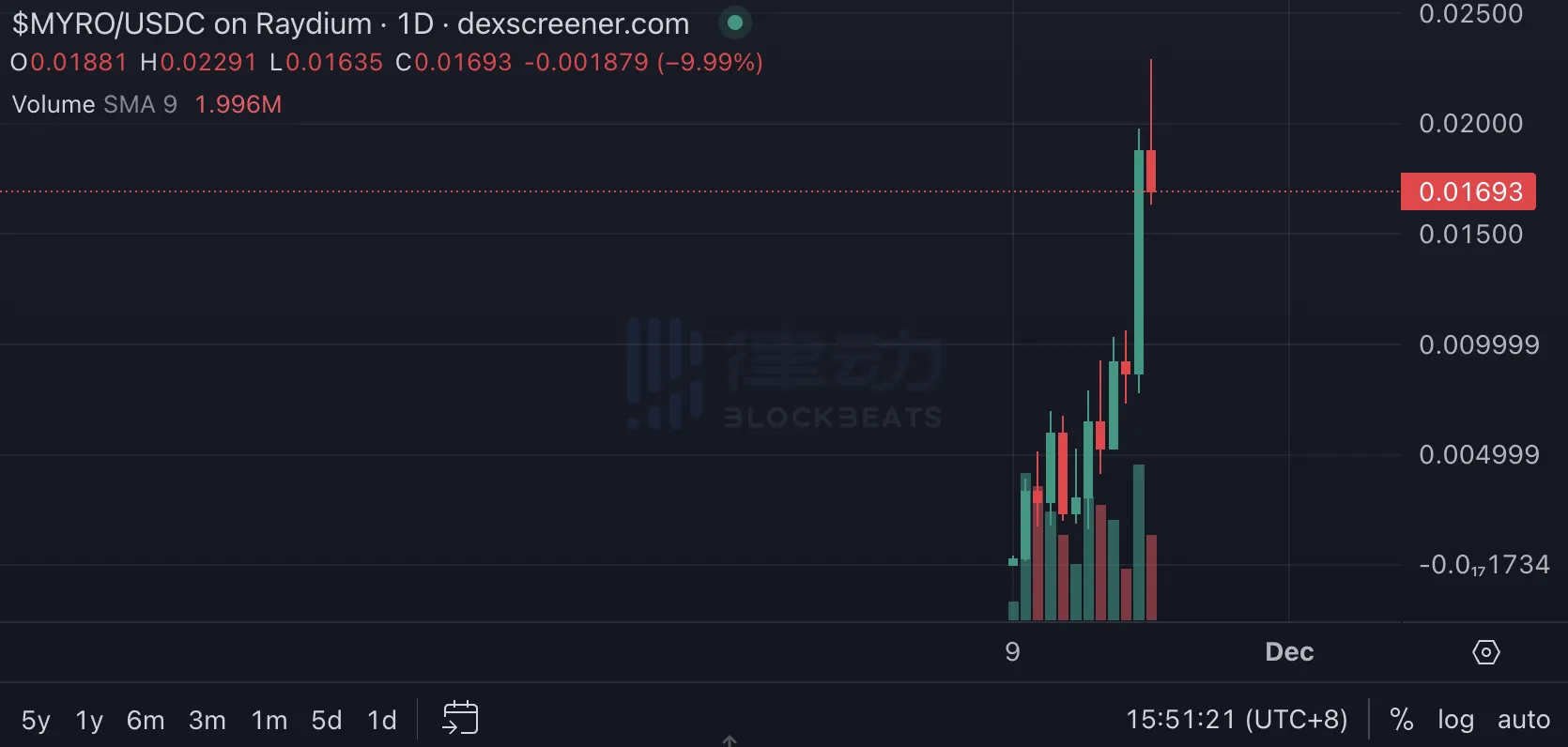 RBT
It seems that the meme coins on Solana like to anchor the meme projects on Ethereum. The official website introduction of RBT is ETH has PEPE, SOL has RIBBIT.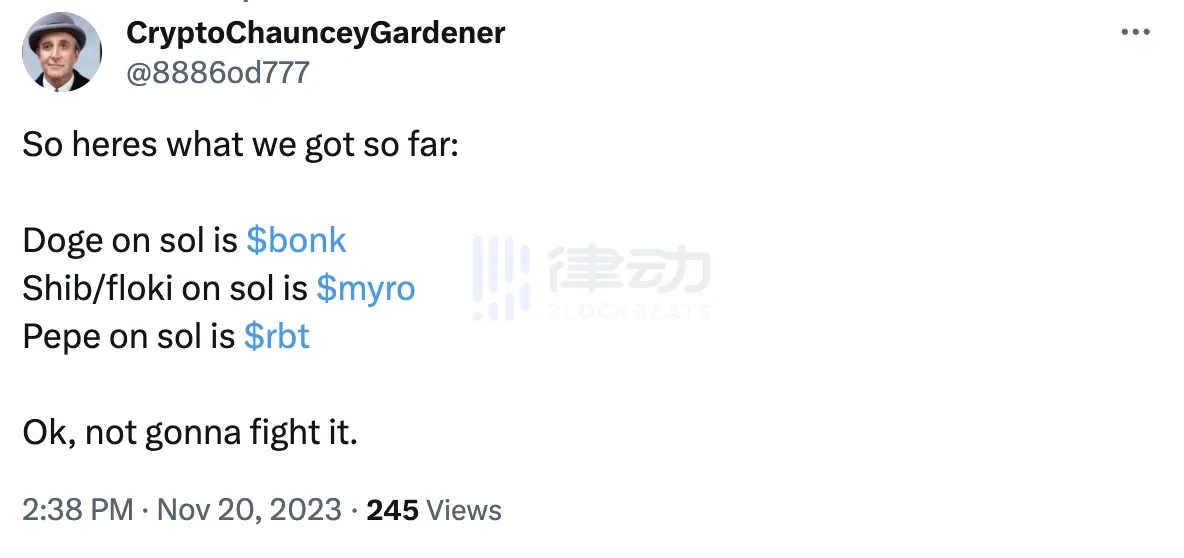 The total supply of RIBBIT is 420, 000, 000, 000. During this wave of Solana meme coin craze, RBT has experienced an astonishing increase. According to Dex Screener data, the increase reached 372.8% in the past 24 hours, and the price was $0.00000824 at press time.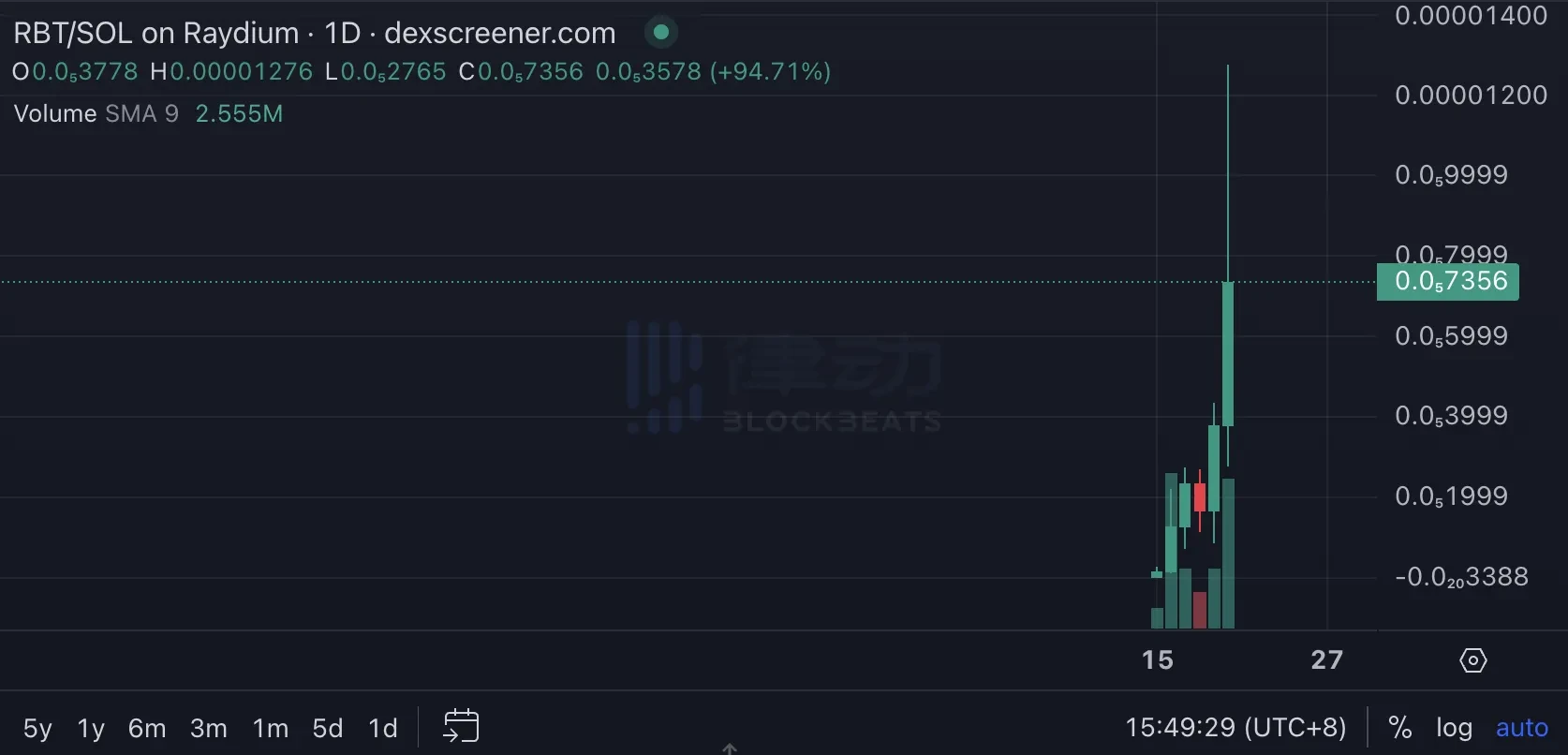 TOLY
TOLY is a meme coin launched by Solana Labs co-founder Anatoly, who claims to be a dog walker on Solana and often interacts with the MYRO community. According to Dex Screener data, as of press time, the historical highest price of TOLY was $0.001217, with a 24-hour increase of 402.90%.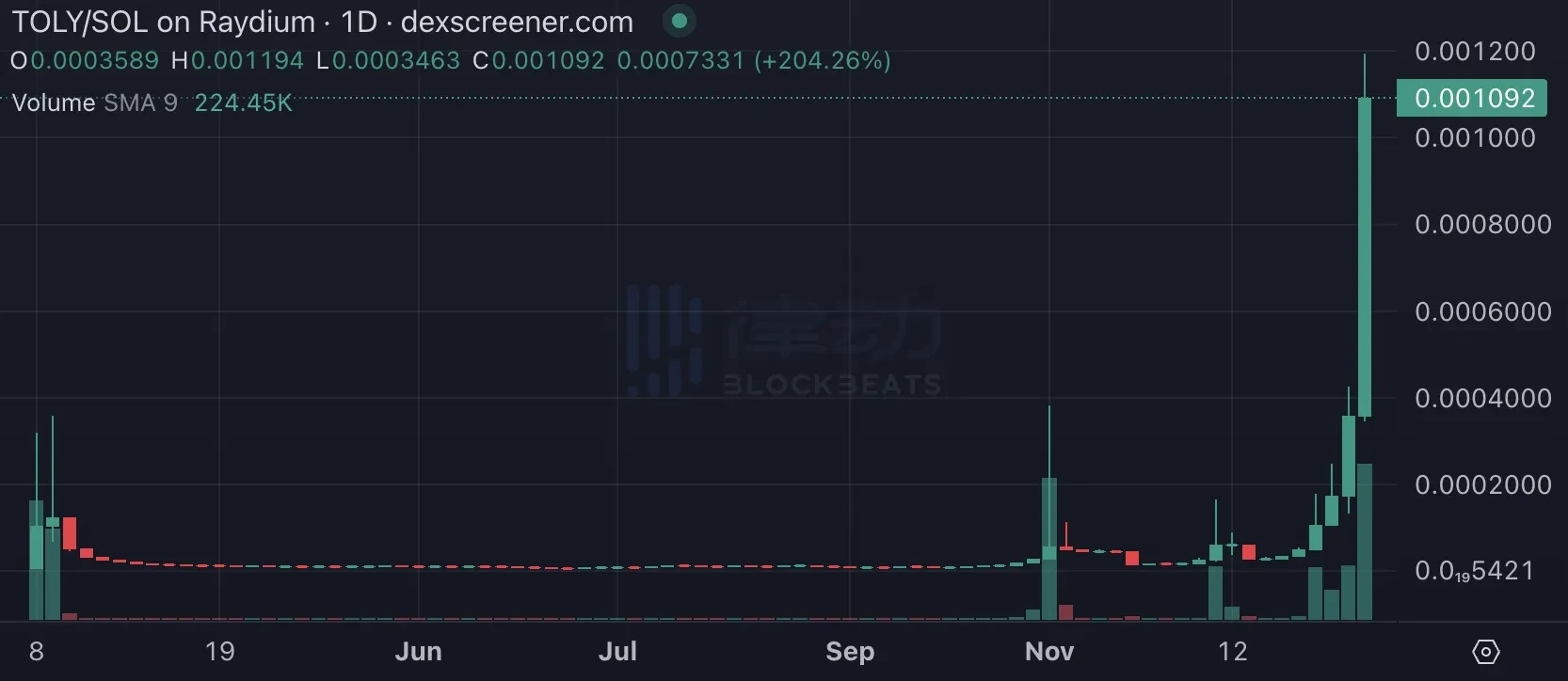 On May 8 this year, after TOLY went online, it issued airdrops to 24 Solana ecological projects, saying that its developers do not own TOLY and do not have permission to mint coins. Its official founder Anatoly said that the project team only has a Twitter account, but will build it in the future. TOLY brand.
CATO
CATO is another meme coin of Solana. The channel for doing tasks will be opened at 23:00 on November 11th, Beijing time, and will last until 8:00 on November 21st.
Similar to the airdrop tasks for most meme coins, CATO's airdrop task is also "Follow CATO's It will start after November 21st, and the number of airdrops will reach 500,000 CATO.
According to Dex Screener data, CATOs 24-hour increase was 12.7%, and as of press time, CATOs quotation was $0.00177220.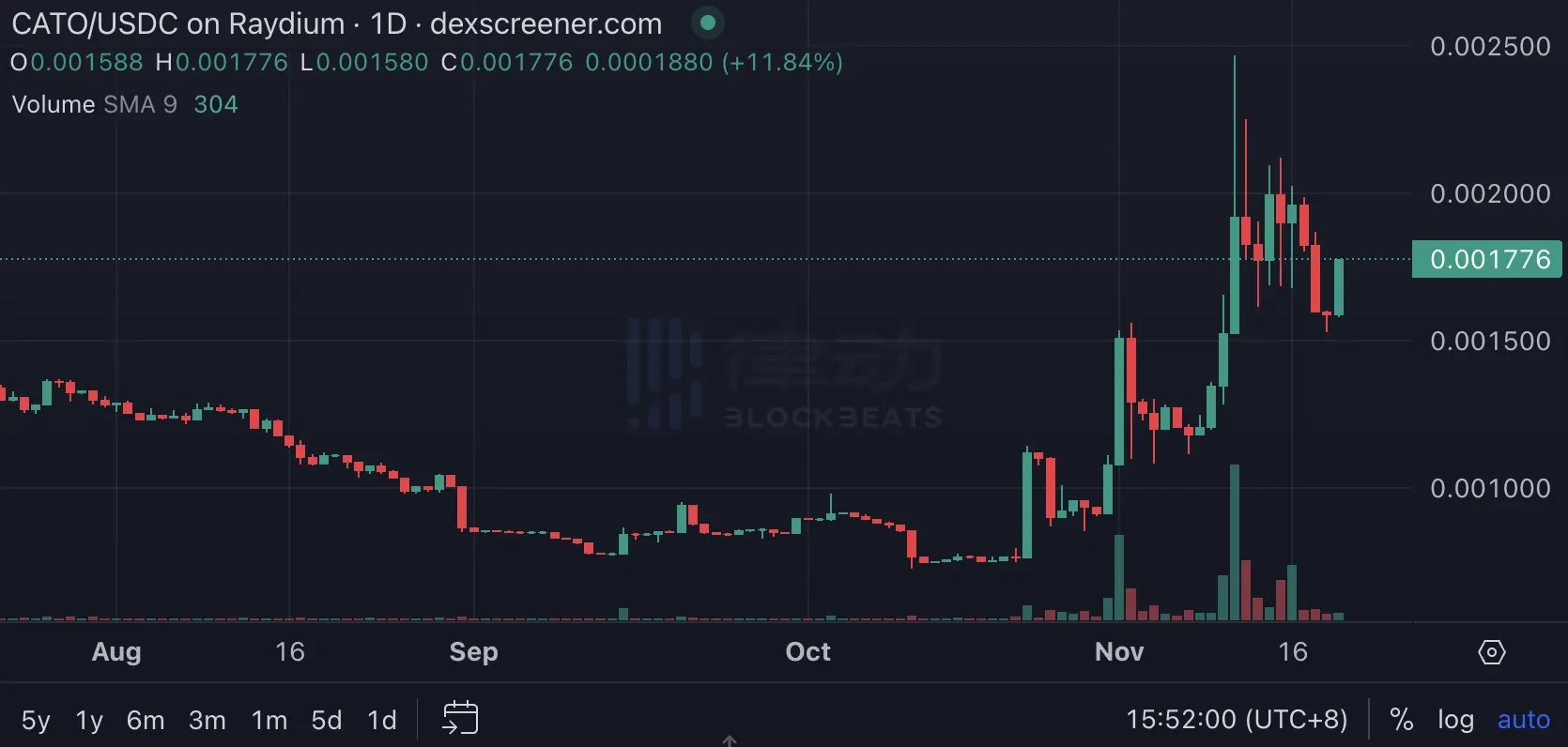 PIKO
PIKO is also Solanas meme coin. PIKO only launched a whitelist form at noon on November 20. As of press time, the addresses filled in the form list accounted for 59% of the total. At the same time, PIKO said that the airdrop event will be launched next week.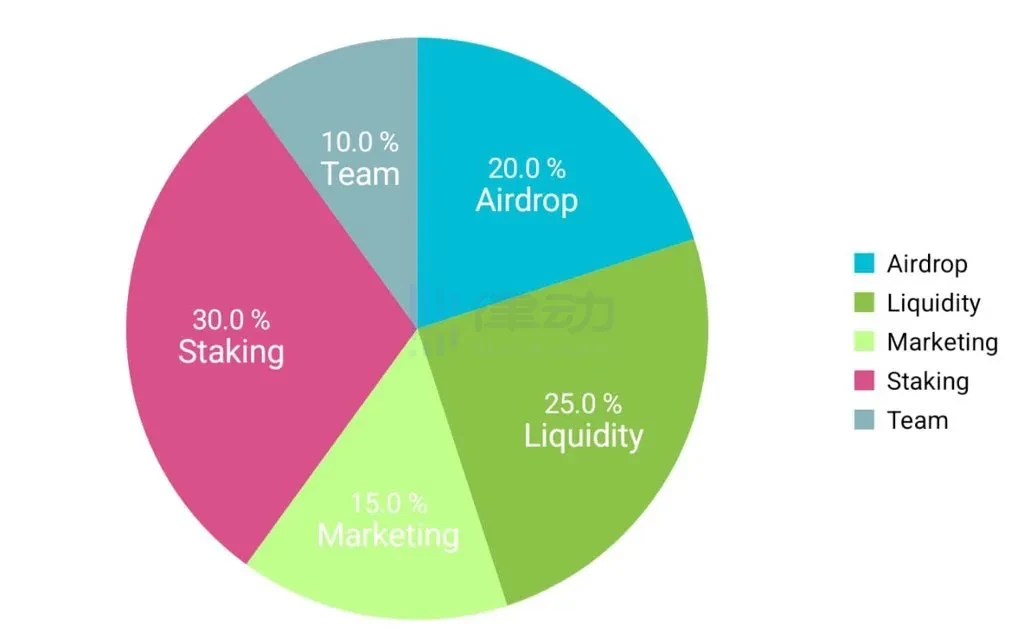 According to the information released by PIKO, the total supply of PIKO is 10, 000, 000, 000, of which 30% will be used for staking, 25% will be used for liquidity, 15% will be used for marketing, and 10% will be reserved for the team. 20% is used as airdrop. Additionally, PIKO trading will soon be available on Jupiter and Raydium.