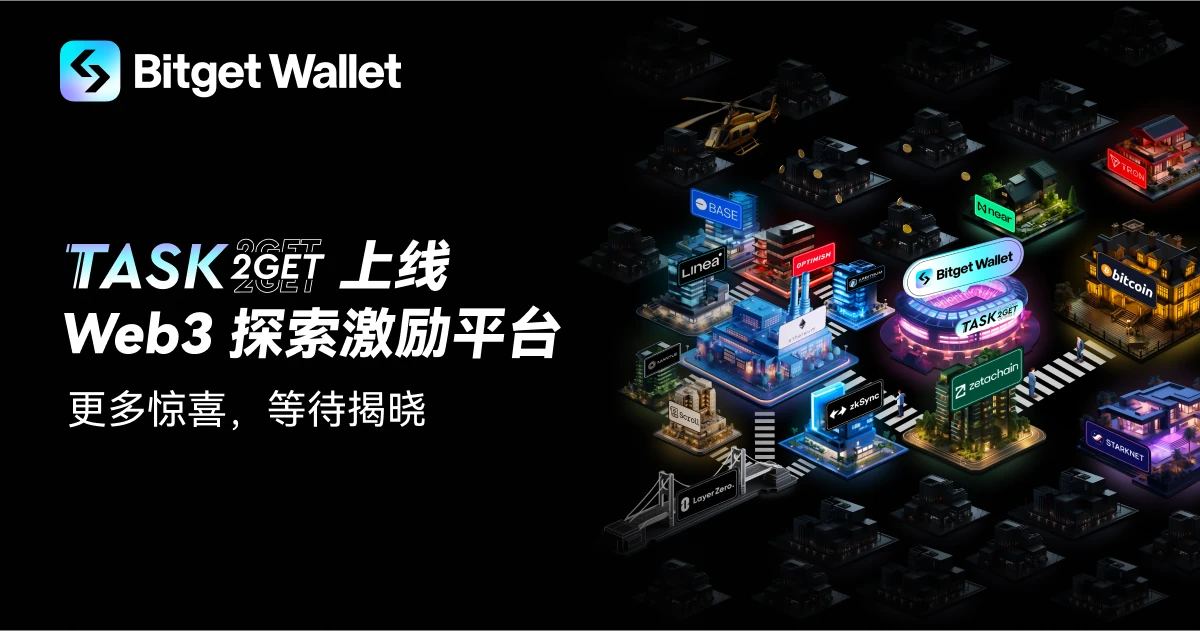 Recently, one-stopWeb3 transaction wallet Bitget Wallet(formerly BitKeep Wallet) announced the launch of Task2Get, a Web3 exploration incentive platform that aggregates various on-chain interactive tasks.

On the one hand, Task2Get aims to screen and display popular and potential mainnets/projects, allowing users to better interact with airdrops and gain future airdrop profits; on the other hand, Bitget Wallet will combine popular mainnets and projects to launch tasks on the Task2Get platform Incentive activities, through generous rewards, allow users to gain benefits while exploring and interacting with the decentralized ecosystem.
Task2Get first phase activityIn conjunction with the official L1 public chain ZetaChain, it will be carried out around the ecological interaction of the ZetaChain test network. In the first phase of the mission, 6 popular DApps were launched, including XDAO, LENX, iZUMi Finance, Eddy Finance, Bounce Finance, and zkMe. After completing the task, participating addresses will have the opportunity to share 700,000 ZETA rewards and randomly draw NFT rewards jointly launched by Bitget Wallet and ZetaChain. Afterwards, Bitget Wallet will conduct welfare airdrops to NFT holders from time to time.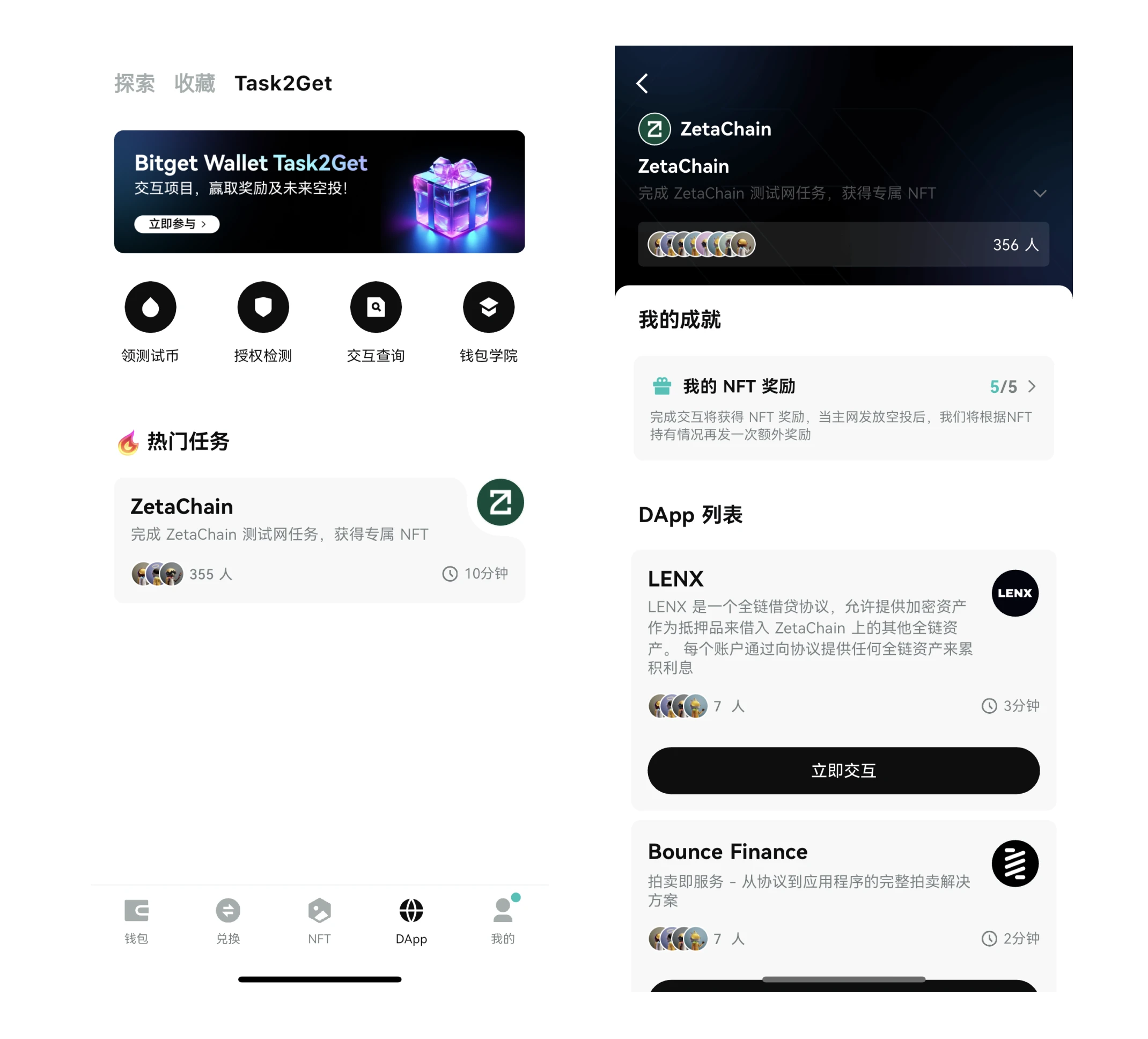 One-stop airdrop interaction on mobile terminal
There are many emerging mainnets and projects in Web3, and airdrop interaction has become a way for more and more people to explore projects and gain income. However, the inconvenient portability of PC devices limits the time and place for participation. In addition, the flood of information also makes it difficult for users to explore and make choices. Capturing industry trends in massive information, screening, judging and following up early potential projects not only tests their ability and experience, but is also time-consuming and labor-intensive.
The launch of Task2Get is precisely to solve the above pain points and provide users with a one-stop airdrop interaction platform on the mobile terminal. Through a clear and intuitive aggregation page, it integrates the DApps that need to be interacted with on each main network and gives clear step-by-step guidance. Help users better complete on-chain interactive operations on their mobile phones.
To further enhance the user experience, Task2Get also provides a series of interactive auxiliary tools. Through relevant tutorials and guides and KOL experience sharing provided by the platform, users can improve their interactive experience and skills; by using interactive query tools, they can comprehensively query the on-chain interactions of their wallet addresses in real time, including interaction records, rankings, Gas Consumption and other key data. In addition, the platform also provides contract authorization detection functions to enhance users awareness of the security of smart contracts, and can promptly revoke authorizations for suspicious contracts to protect asset security.
Considering that the interactive process of airdrop is boring and difficult to persist, Task2Get provides random NFT rewards after users complete each interactive task. Holding NFT can obtain irregular related airdrop benefits in the future. At the same time, users can understand the progress through interactive records and rankings, allowing for better persistence and participation.
Through Task2Get, Web3 players can efficiently interact with airdrops, and even novices can get started quickly.
Organize ecological incentive activities in conjunction with popular mainnets/projects
As a Web3 transaction wallet,Bitget WalletNot only does it allow users to gain profits in the market by providing high-quality trading services, it also continues to plan and carry out various activities with generous rewards, allowing users to explore and experience the ecology of each mainnet while earning money while playing.
In the wallet, users can participate in various incentive activities such as mainnet ecological incentives, project airdrops, Invite 2 Get invitations to earn coins, on-chain trading challenges, etc. Various generously rewarded activities are launched almost every week to allow users to earn profits. At the same time, enjoy the fun of Web3.
Bitget Wallet has previously successfully co-organized many events with many leading mainnets and projects in the industry such as Solana, Mantle, Galxe, etc. Users can participate and win by holding positions in the wallet, Swap transactions, using DApps, inviting friends, etc. Various benefits such as tokens, whitelists, NFTs, etc. According to statistics, Bitget Wallet distributes airdrop benefits worth approximately US$100,000 to users through various activities every month.
With the launch of the Task2Get platform, Bitget Wallet hopes to keep up with market cycles and trend hot spots, and unite various high-quality mainnets and project parties, so that users can explore the on-chain ecology and the Web3 world in one stop, and easily obtain value returns.
Establish super connections between projects and users
Since its establishment in 2018, Bitget Wallet has won the trust of 12 million users around the world with its innovative products and high-quality services, becoming one of the top ten most popular crypto wallets in the world. The Task2Get platform relies on Bitget Wallet's large user base and profound The market influence has built a powerful growth and exposure platform for the main network and project parties, which can not only help new projects get started quickly, but also provide the soil for sustainable development of mature projects.
Currently Bitget Wallet supports more than 90 mainnets, providing wallets,Swap transaction, real-time intelligent quotes,NFT market, DApp interaction and other comprehensive functions, it provides integrated technical support to the main network and project parties, allowing users to complete all on-chain interactions within the wallet, bringing continuous user participation and active interaction to ecological projects.
The Task2Get platform will adhere to the concept of openness and cooperate extensively with more high-quality partners in the industry to become a bridge between the main network, ecological projects and users, promote the interaction between users and projects, help the main network and projects increase their visibility, and attract a large number of active User participation; and working with partners to bring more benefits to users and help users better explore the Web3 world.