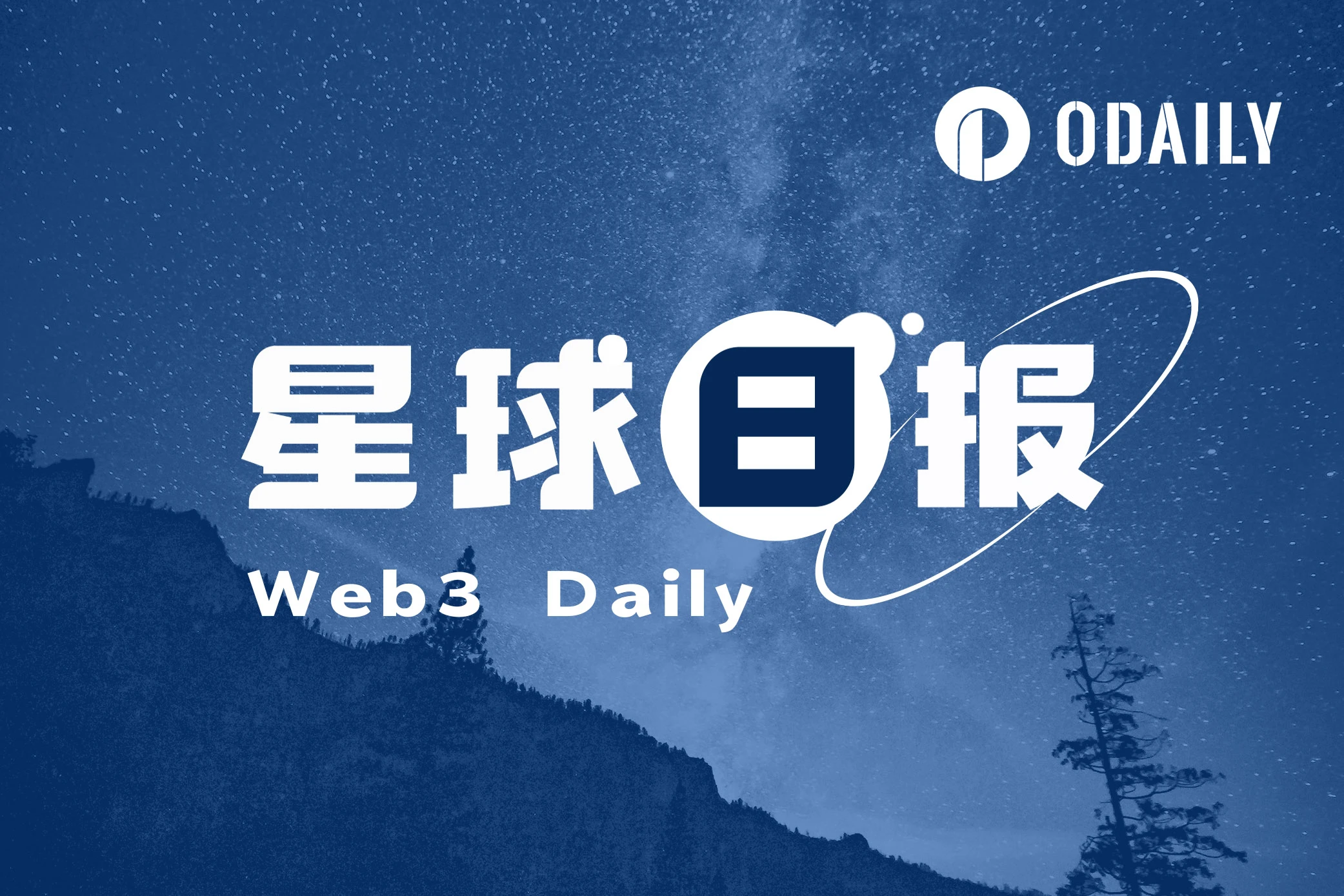 headlines
Bloomberg: The U.S. Department of Justice is seeking $4 billion from Binance to end related criminal charges

Odaily News The U.S. Department of Justice is seeking more than $4 billion from Binance as part of a resolution of a years-long investigation into the world's largest cryptocurrency exchange.
Negotiations between the Justice Department and Binance include the possibility that its founder CZ could face criminal charges in the United States as part of a deal to resolve investigations into alleged money laundering, bank fraud and sanctions violations, according to people familiar with the matter. An announcement could come before the end of the month, though the situation is still fluid, according to the people, who asked not to be identified discussing the confidential matter.
Binance and the Justice Department declined to comment.
Microsoft CEO: OpenAI founders Sam Altman and Greg Brockman will join Microsoft
Odaily News Microsoft CEO Satya Nadella said that OpenAI founders Sam Altman and Greg Brockman will join Microsoft. Altman and Brockman will lead the new Microsoft AI team, and Microsoft will quickly provide Altman's team with the resources it needs.
OKX has submitted an application for a virtual asset trading platform license to the Hong Kong Securities and Futures Commission
Odaily News The list of virtual asset trading platform applicants listed on the official website of the Hong Kong Securities Regulatory Commission shows that OKX Hong Kong FinTech Company Limited has submitted an application for a virtual asset trading platform license on November 16. Its virtual asset trading platform is called OKX .
Prior to this, two other virtual asset trading platforms, Meex and PantherTrade (a virtual asset trading platform owned by Futu), submitted license applications on October 12 and November 15 respectively.
Blur opens applications for the Season 2 airdrop and starts the 6-month Season 3 airdrop
Odaily News NFT market Blur announced that Season 2 has ended. NFT traders and creators on Blur are eligible to start receiving Season 2 airdrops and have 45 days to claim BLUR. With Season 2 coming to an end, Season 3 has begun today and will last for 6 months, offering new rewards for NFT traders and BLUR holders.
50% of Season 3 rewards will be allocated to NFT traders, who can earn Blur Points by bidding, listing, and lending NFTs. The remaining 50% of the rewards will be distributed to BLUR holders, who can earn Holder Points by holding BLUR.
Pyth Network: Retroactive airdrops are open for claim
Odaily News Pyth Network announced on the X platform that applications for its retroactive airdrop are open. It is reported that the validity period for collection is 90 days. The airdrop claim page is valid until February 18, 2024.
Industry News
Twitch co-founder Emmett Shear confirms he has taken over as CEO of OpenAI
Odaily News Twitch co-founder Emmett Shear posted a message on X confirming that he has taken over as OpenAI CEO.
Emmett said he decided to accept the invitation from the OpenAI board of directors after careful consideration. Its top priority in the coming weeks will be ensuring OpenAI continues to serve all of its customers well. Clearly, the process and communication regarding Sams expulsion were handled very poorly, which severely damaged OpenAIs credibility.
Emmett went on to say that the incident will be dealt with in three steps within the next 30 days: First, hire an independent investigator to delve into the entire process that led to this outcome and develop a complete report; second, continue to contact as many employees as possible , partners, investors and customers, take notes and share key takeaways; third, reform the management and leadership teams based on recent departures.
People familiar with the matter: Dozens of internal OpenAI employees will leave or follow Sam Altman to join Microsoft
Odaily reported that dozens of OpenAI internal employees have announced that they will resign, according to a person familiar with the matter. Previously, the companys board director and chief scientist Ilya Sutskever told employees that fired CEO Sam Altman would not return.
Some OpenAI employees have previously said they would be interested in joining Altman if he started a new artificial intelligence venture. Now, those same people may seek to join Altmans team at Microsoft. (The Information)
Analyst: ARK Invest once again updates its spot Bitcoin ETF filing S-1 filing
Odaily News Bloomberg ETF analyst Eric Balchunas posted on the X platform that Ark Invest has once again updated its S-1 filing for its spot Bitcoin ETF application, known as Amendment No. 3. James said this shows they are preparing for SEC approval.
Bittrex Global is about to cease operations, urging customers to withdraw assets as soon as possible
Odaily News After its US branch filed for bankruptcy protection earlier this year, Bittrex Global announced that it would cease operations and said that customers should withdraw their funds as soon as possible.
The company said in a statement: We are extremely sorry to announce that Bittrex Global has decided to cease operations. This decision was made after careful consideration and we understand the inconvenience this may cause our valued customers. All users are strongly encouraged to log in as soon as possible account and withdraw assets. (The Block)
U.S. SEC files lawsuit against exchange Kraken
Odaily News According to a public legal document, the SEC filed a lawsuit against the exchange Kraken.
Kraken responds: It disagrees with the SEC's assertion and will continue to provide services to users
Odaily News Regarding the lawsuit filed by the US SEC, Kraken posted on the X platform that Kraken does not agree with the SEC's claims and plans to vigorously defend its position. News of the accusations has no impact on the products Kraken offers and will continue to serve customers without interruption.
Philippines launches first US$270 million tokenized bond issuance to institutions
Odaily News The Philippines sold tokenized government bonds for the first time on Monday, which may mean that the country's government debt market is trying to make widespread use of digital ledger technology. The Treasury sold 15 billion pesos ($270 million) of debt maturing in November 2024, according to a statement. The bonds are issued to institutional investors and carry an annual interest rate of 6.5%.
The bonds will be issued as digital tokens and will be held on the Distributed Ledger Technology Registry, a blockchain-based registry owned by the Treasury Department. The bureau will implement a dual registration structure, with the DLT registry operating in parallel with the National Registrar of Uncertificated Securities (NRoSS). (Bloomberg)
Santander Private Bank launches Bitcoin and Ethereum investment services for high-net-worth Swiss clients
Odaily News According to an internal statement, Santander Private Banking International, a private bank of Spanish financial services giant Banco Santander, is providing Bitcoin and Ethereum trading and investment services to high-net-worth clients in Switzerland.
In the coming months, Santander will offer additional cryptocurrency services that meet the bank's screening criteria, the statement said. The bank added that the service is provided through a relationship manager only on client request, with assets held in a regulated custody model and the bank storing private keys in a secure environment. (CoinDesk)
Japan's Osaka Digital Exchange will conduct its first digital securities transaction on December 25
Odaily News The Osaka Digital Exchange (ODE) will conduct Japan's first digital securities transaction on December 25.
Tokyo-based Ichigo will sell about 3 billion yen ($20.1 million) in real estate investment-backed securities, according to an official filing on Monday. (Bloomberg)
Infomax, a subsidiary of Yonhap News Agency, will provide standard price data for virtual assets based on South Korea's five major crypto exchanges
Odaily News According to official news, Infomax, a financial information subsidiary of Yonhap News Agency, announced that it will provide standard prices for Korean virtual assets by the end of this year. Yonhap News Agency Infomax signed API supply contracts with five major crypto exchanges in the country (Upbit, Bithumb, Coinone, Korbit, and Gopax). In this way, the standard price of virtual assets in the country is provided every 30 minutes as a weighted average based on the actual trading volume of these 5 Korean won exchanges.
Additionally, in addition to standard prices, Yonhap Infomax plans to provide analytical tools related to cryptocurrency economic indicators, news and reporting services, and the ability to check real-time kimchi premiums. It is reported that Yonhap News Agency Infomax has previously provided financial data on stocks, bonds, foreign exchange and alternative investments.
Project News
ETHGlobal announces 10 finalists for Istanbul Hackathon
Odaily News ETH officially published a document on the X platform announcing the 10 finalists of the Istanbul Hackathon. Projects include:
1. Clade Club, a data-driven social governance platform;
2. Smart contract verification protocol SCI;
3. Automatic bridge fund wallet BridgeBuddy;
4. Buddy-Guard, a social security application for people traveling at night;
5. Sarma, a development aid for EVM privacy execution
6. Stable currency direct transfer tracking tool AidDistribute;
7. TapTrust, an entry-level tool based on AA and NFC technology;
8. On-chain football game Footy Stars;
9. ZKvote.cc, an on-chain voting system supported by ZKP;
10. Zero-knowledge proof ticketing system based on Lens Lens Frens.
Atomic Wallet asks US court to dismiss class action lawsuit over $100 million hack
The company behind crypto wallet Atomic Wallet is asking a U.S. court to dismiss a class-action lawsuit seeking $100 million in damages from hackers. The company said it had no ties to the United States and that claims should be filed in Estonia, its headquarters. Atomic Wallet said only one user in Colorado was affected, but that user was not affected. The 5,500 Atomic Wallet users affected agreed to its terms of service, which explicitly disclaim liability for losses caused by theft and limit losses to $50 per user. Atomic said the plaintiffs' negligence claims also lacked legal merit because they were never established to have a legal duty to maintain the security of Atomic wallets and prevent hackers. (Cointelegraph)
SSV Network: The first round of incentive mainnet plan has been completed, and 2122 SSV will be distributed to validators
Odaily News SSV Network issued a document on the X platform stating that the first round of incentive mainnet plan has been completed.
In order to continue to promote DVT and decentralization, a total of 2,122 SSV tokens will be distributed to validators on the SSV Network in accordance with DAO guidelines and voting, with a total of 685 validators eligible to receive rewards (a total of 1,219 on the network verifier).
Maker: Several changes will be implemented tomorrow, including increasing the maximum debt limit of Spark D 3M to 800 million DAI
Odaily News Maker posted on the X platform that according to the recent Maker Governance executive vote, the following changes will take effect tomorrow (Tuesday, November 21) at 23:45:
- Increase the maximum debt limit of Spark D 3M from 400 million DAI to 800 million DAI;
- Increased SparkLend Gnosis Chain wstETH supply cap from 5,000 to 10,000;
- Reduced the LTV of the SparkLend Ethereum Dai market from 1 basis point to 0;
- Increased SparkLend Ethereum rETH supply cap from 60,000 to 80,000;
- Increased SparkLend Ethereum wstETH supply cap from 400,000 to 800,000;
- Adjust SparkLend Ethereum and Gnosis Chain ETH interest rate model parameters;
- Reactivate SparkLend Ethereums WBTC market using the following parameters:
•Maximum LTV: 70%;
•Liquidation threshold: 75%;
•Liquidation penalty: 7%;
• Supply cap: 3, 000 WBTC;
•Borrowing limit: 2,000 WBTC.
Compound community has adjusted 7 risk parameters for Compound v2 deprecation phase 4
Odaily News The Compound community has adopted and implemented the Compound v2 deprecation (Phase 4) proposal, which aims to adjust the 7 risk parameters of Compound v2 deprecation phase 4, including:
1. Reduce the AAVE mortgage factor from 63% to 58%;
2. Reduce the COMP mortgage factor from 50% to 45%;
3. Reduce the LINK mortgage factor from 69% to 64%;
4. Reduce the MKR mortgage factor from 63% to 58%;
5. Reduce the SUSHI mortgage factor from 57% to 52%;
6. Reduce the YFI mortgage factor from 65% to 60%;
7. Reduce the ZRX staking factor from 55% to 50%.
XEN founder's new project XONE token minting has been completed, and GAS cost approximately US$1.12 million
The official website of Odaily shows that all XONE tokens of XEN founder Jack Levin's new project have been minted, with a total of 500 million tokens. Etherscan data shows that the XONE token contract address 0x 4 DCDa...d 6 E 4 fE 1 c has consumed more than $1.12 million (approximately 559 ETH) in the past 3 hours. Accounting for 38.78% of the total GAS consumption of the entire network, ranking first in consumption.
Currently, the Ethereum mainnet GAS fee has dropped to 40 gwei, after the GAS price briefly surged to more than 100 gwei.
Investment and Financing
WSJ: Cryptocurrency exchange Bullish acquires 100% of CoinDesk
Odaily News Cryptocurrency exchange Bullish acquired 100% of CoinDesk's shares in an all-cash transaction. The specific terms of the transaction have not been disclosed. In 2016, CoinDesk's parent company Digital Currency Group acquired the media company for $500,000. (WSJ)
Blast, the L2 network launched by the founder of Blur, completed US$20 million in financing, with participation from Paradigm and others
Odaily News Blast, a Layer 2 network based on Optimistic Rollup, announced the completion of US$20 million in financing. Paradigm, Standard Crypto, eGirl Capital, Mechanism Capital co-founder Andrew Kang, Lido strategic advisor Hasu, The Block CEO Larry Cermak and others participated in the investment.
It is reported that Blast was jointly created by Blur founder Pacman and a team with rich experience in MakerDAO, MIT, Yale University, and Seoul National University.
Blast, an Ethereum Layer 2 with native yields on ETH and stablecoins, said the existing Layer 2 base rate is 0%. Blast natively participates in ETH staking, and the staking proceeds will be returned to Layer 2 users and DApps. On Blast, users' balances are automatically compounded and they earn additional Blast rewards. Blast believes this advantage alone could attract $20 billion in liquidity.
Blast Early Access is now live and invite-only, and everyone who joins will be rewarded with Blast Points. Users who gain access can earn yield (4% for ETH and 5% for stablecoins) and Blast Points ahead of the mainnet launch in February 2024.
DeFi protocol Panoptic completes US$7 million in seed round financing, led by Greenfield Capital
Odaily News Panoptic, a DeFi protocol based on Uniswap, has completed a US$7 million seed round of financing, led by Greenfield Capital, with participation from HashKey, gumi Cryptos Capital (gCC), L1 D, Heartcore Capital, Comma 3 and Zee Prime Capital. This brings Panoptic's total funding to $11.5 million.
The new funding will help Panoptic further develop the platform during its current beta testing phase before launching on the Ethereum mainnet and releasing its V2 product. (The Block)
Crypto exchange OMTrade completes $6 million in seed round financing
Odaily News Encryption exchange OMTrade completed a US$6 million seed round of financing, led by STEPN development team Find Satoshi Lab, Folius Ventures and Incuba Alpha, KSK Fund and a star lineup composed of Web3 founders, Web2 entrepreneurs, hedge fund managers, traders Businessmen and others participated in the investment. (Globenewswire)
Web3 gaming protocol Saga completes US$5 million in seed round financing, led by Placeholder
Odaily News Web3 game protocol Saga announced that it has completed a US$5 million seed round of financing, led by Placeholder, which brings Saga's total financing to US$13.5 million.
It is reported that Saga will launch its mainnet in January next year. Rebecca Liao, co-founder and CEO of Saga, said Saga's main appeal is its scalability. In addition, Saga plans to start airdrops for developers participating in the testnet, and then provide airdrops to community members. Liao said airdrop requirements will be "pretty high" to deter speculators. (Decrypt)
global policy
Bitcoin supporter Javier Milei wins Argentina presidential election
Odaily News Bitcoin supporter Javier Milei finally won the Argentine presidential election.
Javier Milei has made relevant remarks in public interviews many times. After he was elected president, one of his important goals was to prevent Argentine peso inflation and the continued shrinking of peoples wealth. Milei sought to abolish the peso and the central bank and use the U.S. dollar as legal tender. (Reuters)
Former U.S. SEC General Counsel: SEC and CFTC have no regulatory differences in crypto regulation
Odaily News Former U.S. SEC General Counsel and former CFTC Commissioner Dan M. Berkovitz said in an interview that there is a need for further legislative revisions to securities or commodities laws related to the regulation of crypto asset markets. Existing commodities and securities laws are sufficient to regulate derivatives and securities markets. These laws are flexible enough to accommodate new technologies such as cryptocurrencies and blockchain-traded assets.
Berkovitz doesn't believe the CFTC and SEC are "disagreeable" when it comes to regulating digital assets. The former SEC general counsel asserted that Congress urgently needs to provide additional authority over non-secure digital assets in the spot market, and that the CFTC and SEC coordinate on cryptocurrency issues in the same way they do on other issues where their authorities overlap. The two bodies dont always have the same views on issues, and some differences are normal given their respective jurisdictions, but I dont think any such differences in cryptocurrency would rise to the level of a rift. . (Cryptopotato)
Character*Voice
Bloomberg: Spot Bitcoin ETF market size may reach US$100 billion, Galaxy Digital is already discussing allocation matters
Odaily News According to Bloomberg Intelligence estimates, with the participation of traditional financial giants such as BlackRock, Fidelity and Invesco, the size of the spot Bitcoin ETF market is expected to reach $100 billion.
Galaxy Digital held a conference call with about 300 investment professionals earlier this month to discuss allocations for a spot Bitcoin ETF as it approaches its debut, a person familiar with the matter said.
Jeff Janson, a wealth adviser who is among those preparing for the IPO, said he has been fielding calls from investors of all ages. "I feel like we are now staring down the SEC's gun as we await final approval of the application. I believe we will see a significant amount of institutional interest once investors are able to gain exposure to Bitcoin in this form." Janson said in an interview. It is reported that the company he works for manages about $550 million in assets. (Bloomberg)
Sam Altman responds to joining Microsoft: The mission continues
Odaily News Earlier today, Microsoft CEO announced that OpenAI founders Sam Altman and Greg Brockman will join Microsoft.
In response, Altman posted on the X platform in response: The mission continues.
OpenAI Chief Scientist Ilya Sutskever: Every effort will be made to reunite OpenAI
Odaily News OpenAI co-founder and chief scientist Ilya Sutskever posted on the Anything that can bring the company back together.
dYdX founder: dYdX will not pay bounties to attackers and has no intention of negotiating with them
Odaily News dYdX founder Antonio posted on the X platform that dYdX will pay bounties to those who are most helpful in assisting the investigation. We do not pay bounties to attackers, nor do we negotiate with attackers. We and others have made significant progress in identifying attackers. We are reporting the information we have to the FBI. More updates are coming soon.